Network data confirm the restriction of internet connectivity in Iran on the morning of Thursday 19 January 2023 for some three hours. Metrics corroborate user reports of a disruption to cellular data service on multiple networks for many users.
⚠️ Confirmed: Live network data show that mobile internet access has been disrupted in #Iran on Thursday morning in a manner consistent with proposed measures to prevent cheating in university entrance exams; incident duration ~3 hours 📵

📰 Report: https://t.co/nXNPltPwTJ pic.twitter.com/IuLi1XaCnc

— NetBlocks (@netblocks) January 19, 2023
Real-time NetBlocks metrics show that mobile networks have been disrupted for three hours on Thursday morning, while fixed-line services have remained largely unaffected. This class of disruption cannot be readily worked around using VPN services. The incident is consistent with a measure recently proposed by authorities to limit cheating in university entrance exams.
Iran has frequently restricted access to online platforms during protests and has one of the most heavily censored networks globally. However, Iranian officials recently proposed the use of similar network disruptions to prevent cheating during university entrance exams, which are scheduled on 19 to 20 January.
Why is Iran shutting down mobile internet access?
Iran's exam day mobile internet shutdown comes amid a backdrop of more extensive political mass-censorship in recent months, imposed in response to widespread protests against the death of Mahsa Amini.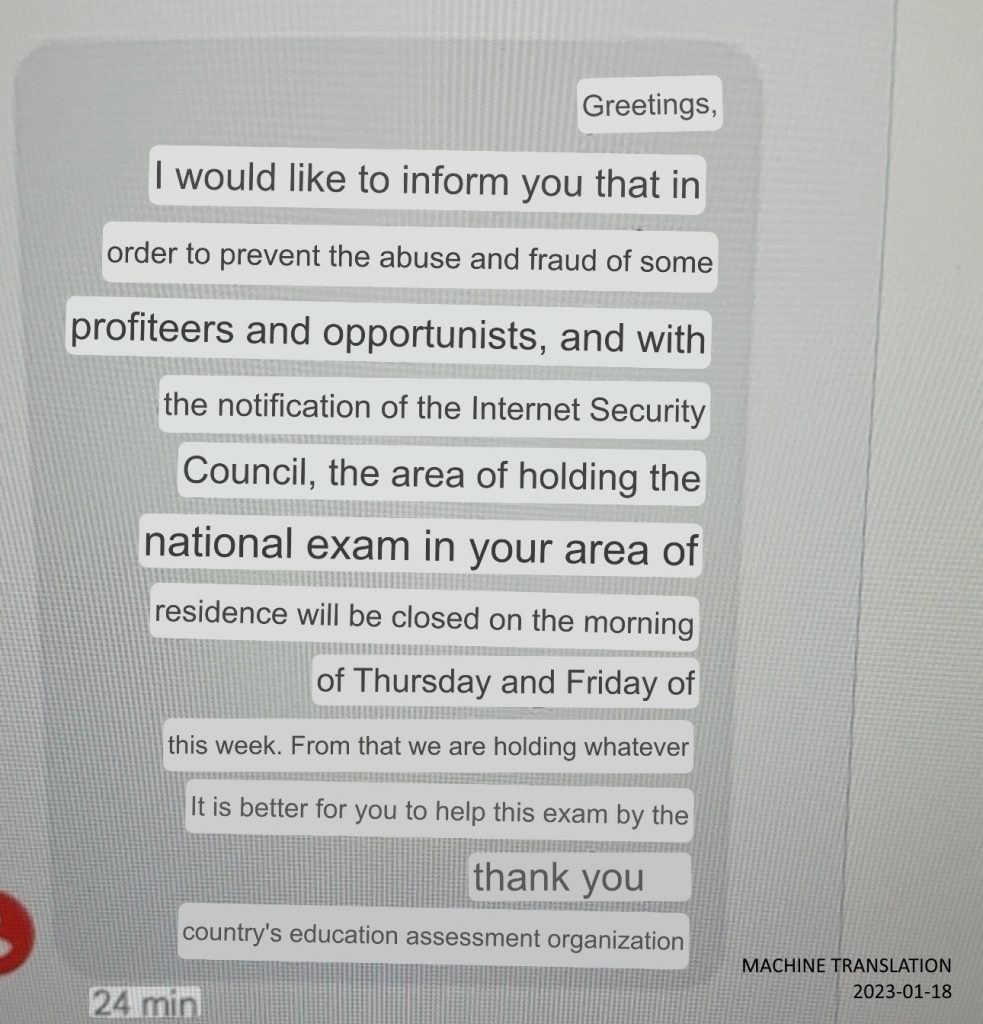 Statements from Iranian officials indicate that the new internet shutdown measure is indeed intended to prevent cheating in school exams. Metrics and timings corroborate the duration of the network disruption against official statements, having a duration of some three hours. Other countries that impose internet shutdowns during school exams include Algeria, Ethiopia, and Iraq.
Minister Isah Zareh Pour stated on Wednesday that authorities would primarily target "exam areas" rather than imposing a nation-scale mobile data ban. The geographic extent of Thursday's disruption could not be independently corroborated.
NetBlocks recommends against the use of internet shutdowns to prevent cheating in school exams due to their disproportionate impact on the wider community and digital economy.
Previously: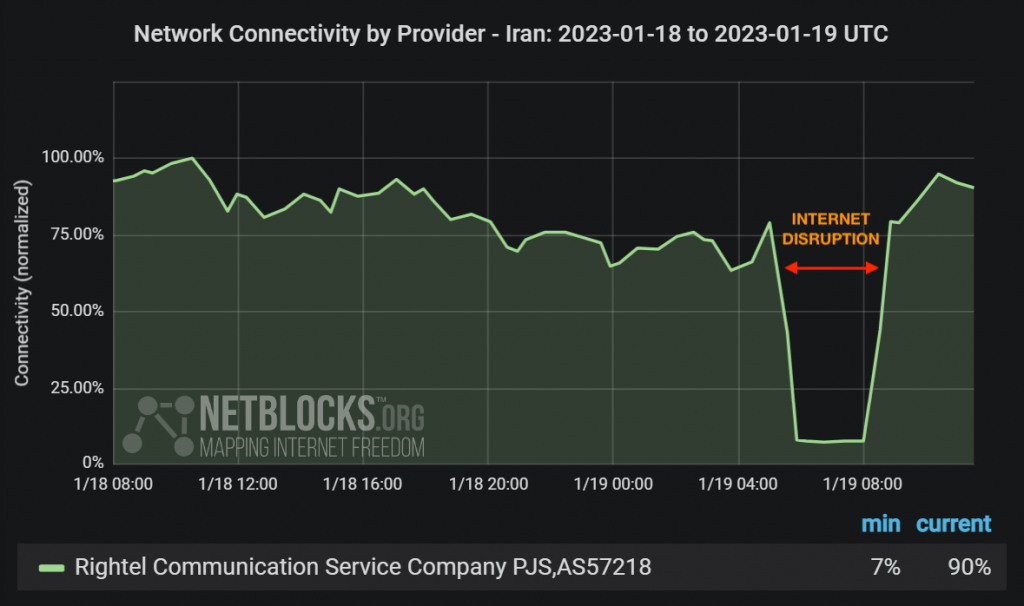 ---
Methodology
NetBlocks diffscans, which map the IP address space of a country in real time, show internet connectivity levels and corresponding outages. Purposeful internet outages may have a distinct network pattern used by NetBlocks to determine and attribute the root cause of an outage, a process known as attribution which follows detection and classification stages.
---
NetBlocks is an internet monitor working at the intersection of digital rights, cyber-security and internet governance. Independent and non-partisan, NetBlocks strives to deliver a fair and inclusive digital future for all.
[ press | contact ] Graphics and visualizations are provided for fair use in unaltered form reflecting the meaning and intent in which they were published, with clear credit and source attribution to NetBlocks. Intellectual property rights are protected including but not limited to key findings, facts and figures, trademarks, copyrights, and original reporting, are held by NetBlocks. Citation and source attribution are required at the point of use.
Core Reporting Sponsor