Network data confirm the restriction of social video platform TikTok in the Hashemite Kingdom of Jordan on multiple internet providers on Friday 16 December 2022. The incident comes amid protests over high fuel prices which have spread to multiple cities.
⚠️ Confirmed: Metrics show that social video service TikTok has been restricted in #Jordan on multiple internet providers; the incident comes amid protests over high fuel prices that have spread to several cities across the kingdom pic.twitter.com/2meebeKHnb

— NetBlocks (@netblocks) December 16, 2022
Real-time NetBlocks metrics show that TikTok frontends and backends have been restricted from early Friday morning. This class of disruption can be worked around using VPN services, which are able to circumvent government internet censorship measures.
Jordan has frequently restricted access to online platforms during protests, with Facebook Live streaming  targeted during Teachers' Syndicate protests in 2020. The country does not typically issue public notices regarding the practice, although in this instance public security forces subsequently explained that "The TikTok platform did not deal with its misuse, and videos were promoted from outside Jordan to influence the feelings of citizens."
What's happening in Jordan?
Violent clashes have broken out as authorities attempt to gain control over the protesters, who police are referring to as "rioters." Fuel prices have risen sharply in Jordan amid an economic downturn and a reduction in subsidies, leading to discontent among much of the population.
One police officer was shot in the head and killed in Maan, southern Jordan, per police, while protesters have also been injured per eyewitnesses.
See also: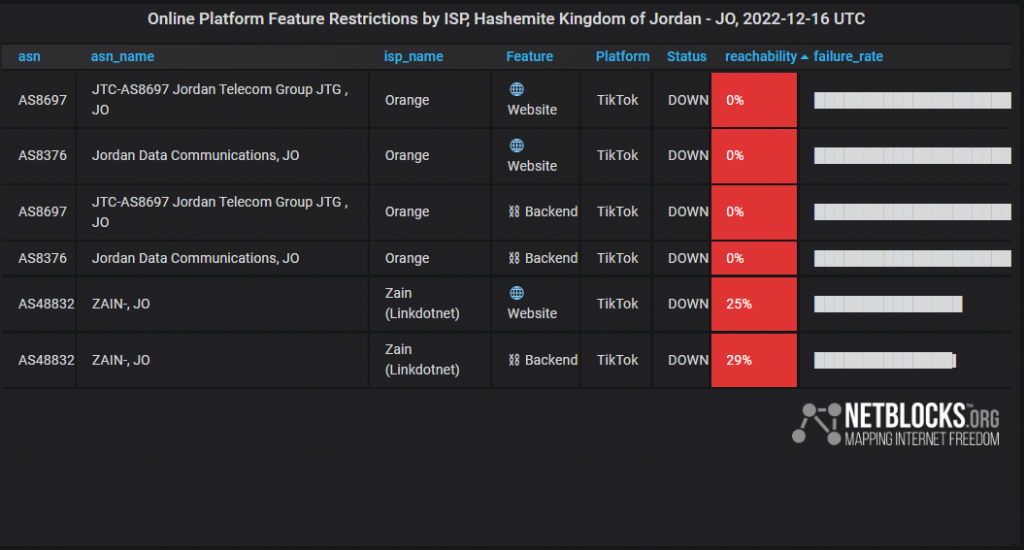 ---
Methodology
Internet performance and service reachability are determined via NetBlocks web probe privacy-preserving analytics. Each measurement consists of latency round trip time, outage type and autonomous system number aggregated in real-time to assess service availability and latency in a given country. Network providers and locations are enumerated as vantage point pairs. The root cause of a service outage may be additionally corroborated by means of traffic analysis and manual testing as detailed in the report.
---
NetBlocks is an internet monitor working at the intersection of digital rights, cyber-security and internet governance. Independent and non-partisan, NetBlocks strives to deliver a fair and inclusive digital future for all.
[ press | contact ] Graphics and visualizations are provided for fair use in unaltered form reflecting the meaning and intent in which they were published, with clear credit and source attribution to NetBlocks. Intellectual property rights are protected including but not limited to key findings, facts and figures, trademarks, copyrights, and original reporting, are held by NetBlocks. Citation and source attribution are required at the point of use.
Core Reporting Sponsor