Network data from the NetBlocks Internet Observatory confirm widespread disruption to social media and online communication platforms via multiple internet providers in Tanzania as of Tuesday 27 October 2020. The incident comes on the eve of Tanzania's presidential and national assembly elections and service outages are ongoing as of Friday evening.
Real-time metrics show that Twitter, WhatsApp, backend servers for Instagram and some Google services including GMail and Translate are generally or partially unavailable via Tanzania's leading network operators Vodacom, Airtel, Tigo, Halotel and ZanTel. Meanwhile, data indicate a more generalized disruption of services on state-owned operator TTCL, the Tanzania Telecommunications Corporation.
Findings are drawn from an initial set of NetBlocks Web Probe metrics from 800 observation points. Twitter Inc. has also subsequently confirmed throttling of its services in Tanzania and restrictions have extended to cover YouTube from the evening onward.
Confirmed: Widespread disruption to social media registered across #Tanzania on eve of elections; high impact to Twitter, WhatsApp, Instagram and Google services on Vodacom, Airtel, Tigo, Halotel and Zantel; incident ongoing 📉 #TanzaniaElections2020

📰 https://t.co/LEIpXAlEhf pic.twitter.com/2WRsPSZ2VU

— NetBlocks (@netblocks) October 27, 2020
Authorities have not issued a statement on the disruptions as of Tuesday afternoon. A week earlier, the Tanzania Communications Regulatory Authority issued operators with a directive to suspend bulk SMS and telephony services during the election period. However, the directive does not specify internet restrictions and the relevant regulatory frameworks remain unclear.
Concerns over election transparency are heightened in Tanzania amid claims of state interference with the accreditation process for electoral observers, clashes involving security forces and alleged restrictions on independent media in the run up to the election period.
Further reading: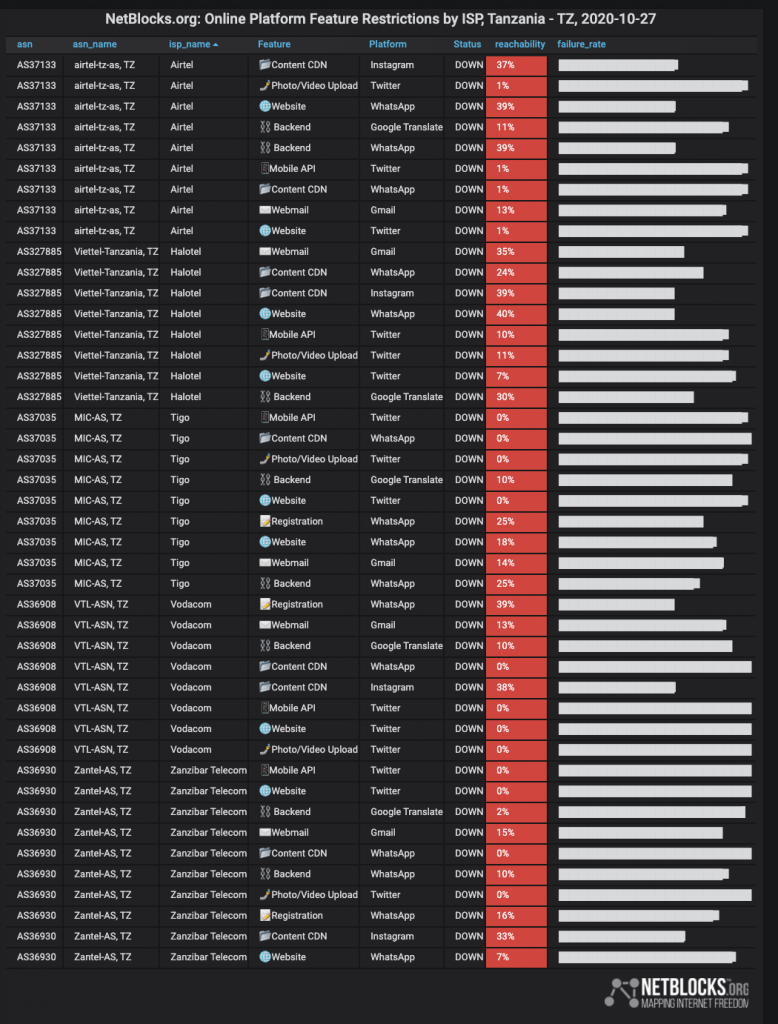 ---
Methodology
This report follows the NetBlocks Election Pathfinder Rapid Response methodology which defines a set of core principles, workflows and benchmarks for network measurement and evaluation during elections and referenda.
Internet performance and service reachability are determined via NetBlocks web probe privacy-preserving analytics. Each measurement consists of latency round trip time, outage type and autonomous system number aggregated in real-time to assess service availability and latency in a given country. Network providers and locations are enumerated as vantage point pairs. The root cause of a service outage may be additionally corroborated by means of traffic analysis and manual testing as detailed in the report.
---
NetBlocks is an internet monitor working at the intersection of digital rights, cyber-security and internet governance. Independent and non-partisan, NetBlocks strives to deliver a fair and inclusive digital future for all.
[ press | contact ] Graphics and visualizations are provided for fair use in unaltered form reflecting the meaning and intent in which they were published, with clear credit and source attribution to NetBlocks. Intellectual property rights are protected including but not limited to key findings, facts and figures, trademarks, copyrights, and original reporting, are held by NetBlocks. Citation and source attribution are required at the point of use.