Network data observed by the NetBlocks Internet Observatory indicate network disruptions in Russia on Saturday 23 January 2021. The outages come amid protests against the detention of prominent opposition activist and anti-corruption campaigner Alexei Navalny and may limit coverage of events on the ground.
Metrics on Moscow and St. Petersburg, provider MTS indicate a fall in observed connectivity coinciding with the protests, having a recorded incident duration of approximately 6 hours:
Update: Internet connectivity restored in Russia following partial disruption to service observed in Moscow and St. Petersburg amid public protests; network data indicate an incident duration of ~6 hours 📈 #RussiaProtests #Navalny

📰 https://t.co/ziGReFyo5Z pic.twitter.com/jR5ShX2dKe

— NetBlocks (@netblocks) January 23, 2021
Findings are consistent with widespread reports of outages as thousands of demonstrators took to the streets. Further to cellular outages, credible user reports describe upstream disconnections on residential networks during the same time window. Work is ongoing to assess the incident.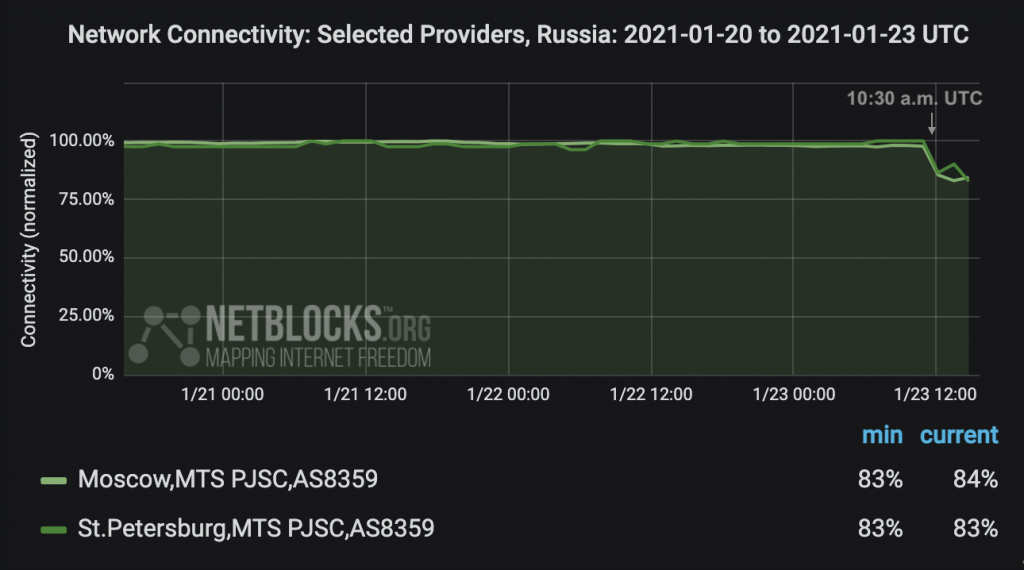 NetBlocks previously observed outages during protests in Moscow on on Saturday 3 August 2019. In that instance the disruption report was confirmed by the BBC and industry sources to have been state-ordered.
---
Methodology
NetBlocks diffscans, which map the IP address space of a country in real time, show internet connectivity levels and corresponding outages. Purposeful internet outages may have a distinct network pattern used by NetBlocks to determine and attribute the root cause of an outage, a process known as attribution which follows detection and classification stages.
---
NetBlocks is an internet monitor working at the intersection of digital rights, cyber-security and internet governance. Independent and non-partisan, NetBlocks strives to deliver a fair and inclusive digital future for all.
[ press | contact ] Graphics and visualizations are provided for fair use in unaltered form reflecting the meaning and intent in which they were published, with clear credit and source attribution to NetBlocks. Intellectual property rights are protected including but not limited to key findings, facts and figures, trademarks, copyrights, and original reporting, are held by NetBlocks. Citation and source attribution are required at the point of use.