NetBlocks metrics confirm the restriction of Instagram in Russia from the night of Sunday 13 March 2022. The incident follows the earlier restriction of Twitter and Facebook as Russia cracks down on international social media platforms after its invasion of Ukraine.
⚠️ Confirmed: Real-time network data show #Instagram is now restricted in #Russia across multiple providers; the popular social network has been banned by internet regulator Roskomnadzor after similar measures taken against Twitter and Facebook

📰 Report: https://t.co/1JIs5peFeO pic.twitter.com/ICunkqkhXF

— NetBlocks (@netblocks) March 13, 2022
Real-time network data show that the restrictions are coming into effect across multiple providers rendering the platform widely unusable, corroborating user reports. Instagram is amongst Russia's most used online platforms, exceeding the popularity of Twitter and Facebook, with the visual format popular with Russian influencers and businesses.
Russia's internet regulator Roskomnadzor announced that Instagram was to be banned on Monday 14 March 2022 after Meta's decision to allow calls for violence against Russians in certain contexts, giving users two additional days to migrate to domestic alternatives.
ℹ️ Russia's internet regulator #Roskomnadzor has announced that #Instagram is to be banned on Monday 14 March 2022 after Meta's decision to allow calls for violence against Russians in certain contexts, giving users two days to migrate 🕛

📰 Previously: https://t.co/PzFZ662LyN

— NetBlocks (@netblocks) March 11, 2022
Instagram can be accessed indirectly through the use of VPN services, which can work around government-imposed internet restrictions. However, many do not have access to VPN software and the usage of Instagram is expected to fall significantly in Russia as a result of the measure.
Why has Russia banned Instagram?
Instagram, operated by parent company Meta, is the most popular international social media platform in Russia and it was spared from the first round of social media platform bans in February during the onset of Russia's war on Ukraine.
However, Meta was called out after a damaging leak published by news agency Reuters which revealed that the company had changed its in-house content moderation guidelines to permit calls for violence against Russians as well as the country's leader Vladimir Putin in some contexts. This appears to have given internet regulator Roskomnadzor the basis to label Meta an "extremist organization" after which the social media ban was extended to cover Instagram.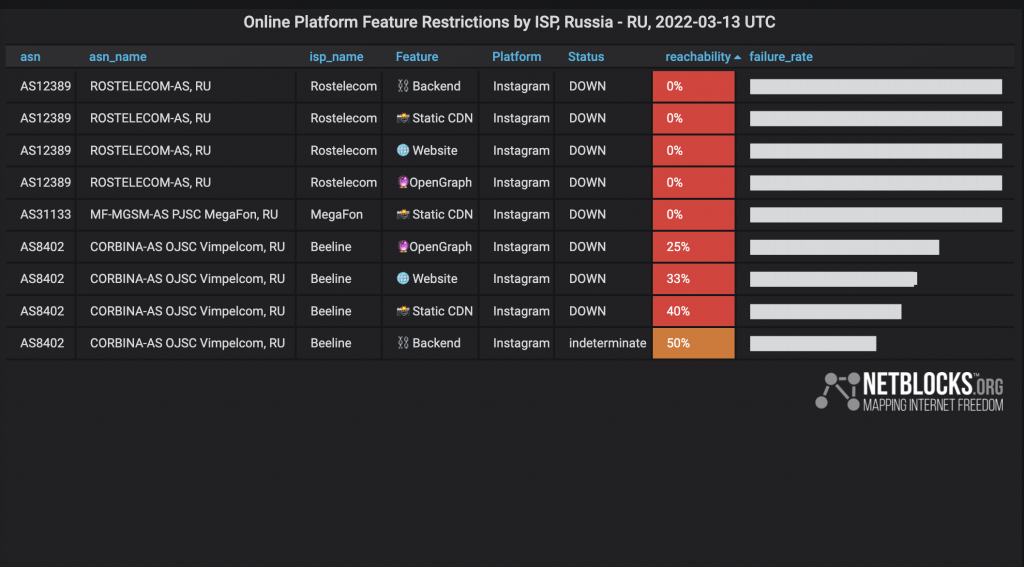 Further reading:
Previously:
---
Methodology
Internet performance and service reachability are determined via NetBlocks web probe privacy-preserving analytics. Each measurement consists of latency round trip time, outage type and autonomous system number aggregated in real-time to assess service availability and latency in a given country. Network providers and locations are enumerated as vantage point pairs. The root cause of a service outage may be additionally corroborated by means of traffic analysis and manual testing as detailed in the report.
This report uses NetBlocks app analytics metrics which track the availability of apps by country and market demographics. App listings and downloads may be restricted by app publishers themselves or removals may be imposed by app store operators as detailed in the report.
---
NetBlocks is an internet monitor working at the intersection of digital rights, cyber-security and internet governance. Independent and non-partisan, NetBlocks strives to deliver a fair and inclusive digital future for all.
[ press | contact ] Graphics and visualizations are provided for fair use in unaltered form reflecting the meaning and intent in which they were published, with clear credit and source attribution to NetBlocks. Intellectual property rights are protected including but not limited to key findings, facts and figures, trademarks, copyrights, and original reporting, are held by NetBlocks. Citation and source attribution are required at the point of use.