Network data from the NetBlocks Internet Observatory confirm disruption to internet connectivity in Armenia on the afternoon of Thursday 25 February 2021 amid turmoil in the leadership and claims of a military coup attempt. The anomalies have partial impact and corroborate user reports of issues getting online, affecting multiple networks. The disruptions may limit coverage of events on the ground.
Update: A partial internet disruption has impacted communications in #Armenia amid political turmoil as the Prime Minister decries an ouster attempt. Some restoration is now registered corroborating user reports.

📰 Report: https://t.co/yGeajTgJpg pic.twitter.com/juuPQsfTpg

— NetBlocks (@netblocks) February 25, 2021
Metrics show a fall in observed national connectivity to 82% of ordinary peak levels from around 2 p.m. local time, followed by a slight recovery as Armenia Prime Minister Nikol Pashinyan accused the army of attempting a coup. Work is ongoing to assess the incident with no direct attribution made at the present time.
Internet disruptions associated with political crisis have been on the rise in the region , with Azerbaijan using targeted restrictions on social media for an extended period amid deadly clashes over the Nagorno Karabakh territory, a measure taken by authorities with the stated goal to limit online influence operations.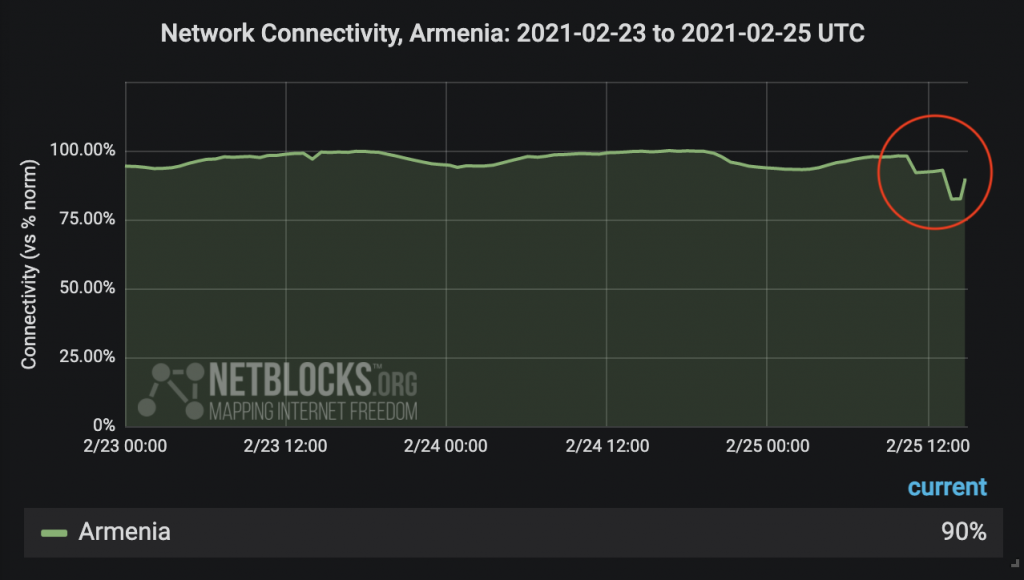 Further reading:
---
Methodology
NetBlocks diffscans, which map the IP address space of a country in real time, show internet connectivity levels and corresponding outages. Purposeful internet outages may have a distinct network pattern used by NetBlocks to determine and attribute the root cause of an outage, a process known as attribution which follows detection and classification stages.
---
NetBlocks is an internet monitor working at the intersection of digital rights, cyber-security and internet governance. Independent and non-partisan, NetBlocks strives to deliver a fair and inclusive digital future for all.
[ press | contact ] Graphics and visualizations are provided for fair use in unaltered form reflecting the meaning and intent in which they were published, with clear credit and source attribution to NetBlocks. Intellectual property rights are protected including but not limited to key findings, facts and figures, trademarks, copyrights, and original reporting, are held by NetBlocks. Citation and source attribution are required at the point of use.