Twitter image and video servers and platform backends have been blocked in Venezuela from 3:10 PM UTC on state provider CANTV (AS8048) and its mobile network Movistar, as interim leader Juan Guaidó is set to arrive in Caracas after a tour of neighboring countries. The restrictions have been implemented as the leader calls supporters to the streets under the hashtags #4MVzlaALaCalle, #VamosVzla and #VamosJuntosALaCalle.
Confirmed: Twitter platform, backend and image servers restricted in #Venezuela from 3:10 PM UTC (11:10 AM VET) as citizens take to streets under hashtag #4MVzlaALaCalle
following Guaidó return #KeepItOn ⬇️https://t.co/g64fOf40y2 pic.twitter.com/RBDk4biqrE

— NetBlocks.org (@netblocks) March 4, 2019
Users report being able to partially access the Twitter homepage, while images and videos do not load. Such measures are known to be used by authorities to prevent the sharing of media from protests:
https://twitter.com/MeIsMenS/status/1102596781572001799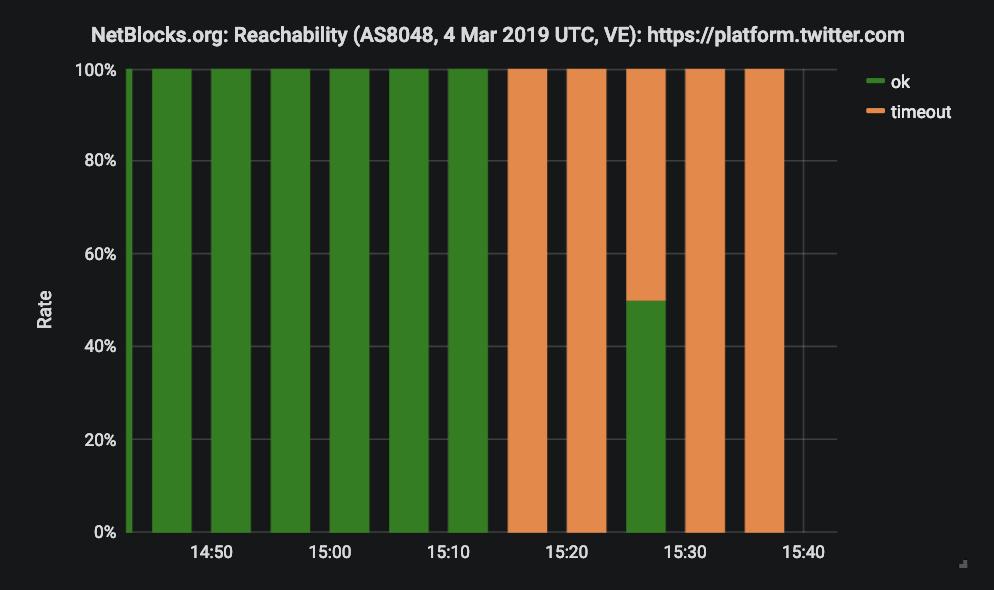 Meanwhile, the SoundCloud audio streaming service has been restricted since 27 February, when Guaidó posted tweets linking to his audio posts on the platform. Guaidó has been a frequent target of state censorship during the ongoing crisis.
As #Venezuela's Guaidó posts updates to #Soundcloud, it's worth noting the audio streaming platform has been restricted by state-run provider CANTV (AS8048) since 27 February when Twitter was also briefly cut #KeepItOn ⬇️https://t.co/0GoBnkQJlb pic.twitter.com/0NSaY51CsL

— NetBlocks.org (@netblocks) March 4, 2019
---
Methodology
NetBlocks diffscans, which map the IP address space of a country in real time, show internet connectivity levels and corresponding outages. Purposeful internet outages generally have a distinct network pattern used by NetBlocks to determine and attribute the root cause of an outage, a process known as attribution which follows detection and classification stages.
---
NetBlocks is a civil society group working at the intersection of digital rights, cyber-security and internet governance. Independent and non-partisan, NetBlocks strives for an open and inclusive digital future for all.
[ methodology handbook | press | contact ] Graphics and visualizations provided under a free and open license for reuse with clear attribution.