On 12 July, 2018 inaccessibility of U.S.-based online news magazine slate.com was detected in Pakistan by the NetBlocks internet observatory and Digital Rights Foundation. The groups have determined the nation-wide extent of the restriction, which is one of the first blocks to target a global news media outlet in its entirety. Data collected through the controlled study, incorporating 480 sets of measurements over 12 hours via vantage points and providers across the country, indicate a targeted and purposeful disruption consistent with internet filtering techniques used in the country.
In the run up to elections #Pakistan is increasingly resorting to online censorship, now including international news content: Our new report on the blocking of @Slate Magazine with @DigitalRightsPKhttps://t.co/6xz60l430O

— NetBlocks (@netblocks) July 13, 2018
"This attempt at censorship is not just an attack on free press, but also against the fundamental right to free speech and access to information granted under article 19 and 19-A of the constitution of Pakistan to its citizens," Hija Kamran, Communications Manager, Digital Rights Foundation, said.

"We demand transparency from the government authorities in their actions and urge them to unblock slate.com in Pakistan immediately while notifying its citizens why the online magazine was blocked in the first place", she adds.
Measurements from the study show how most of Pakistan's internet service providers have implemented the restriction of Slate's website: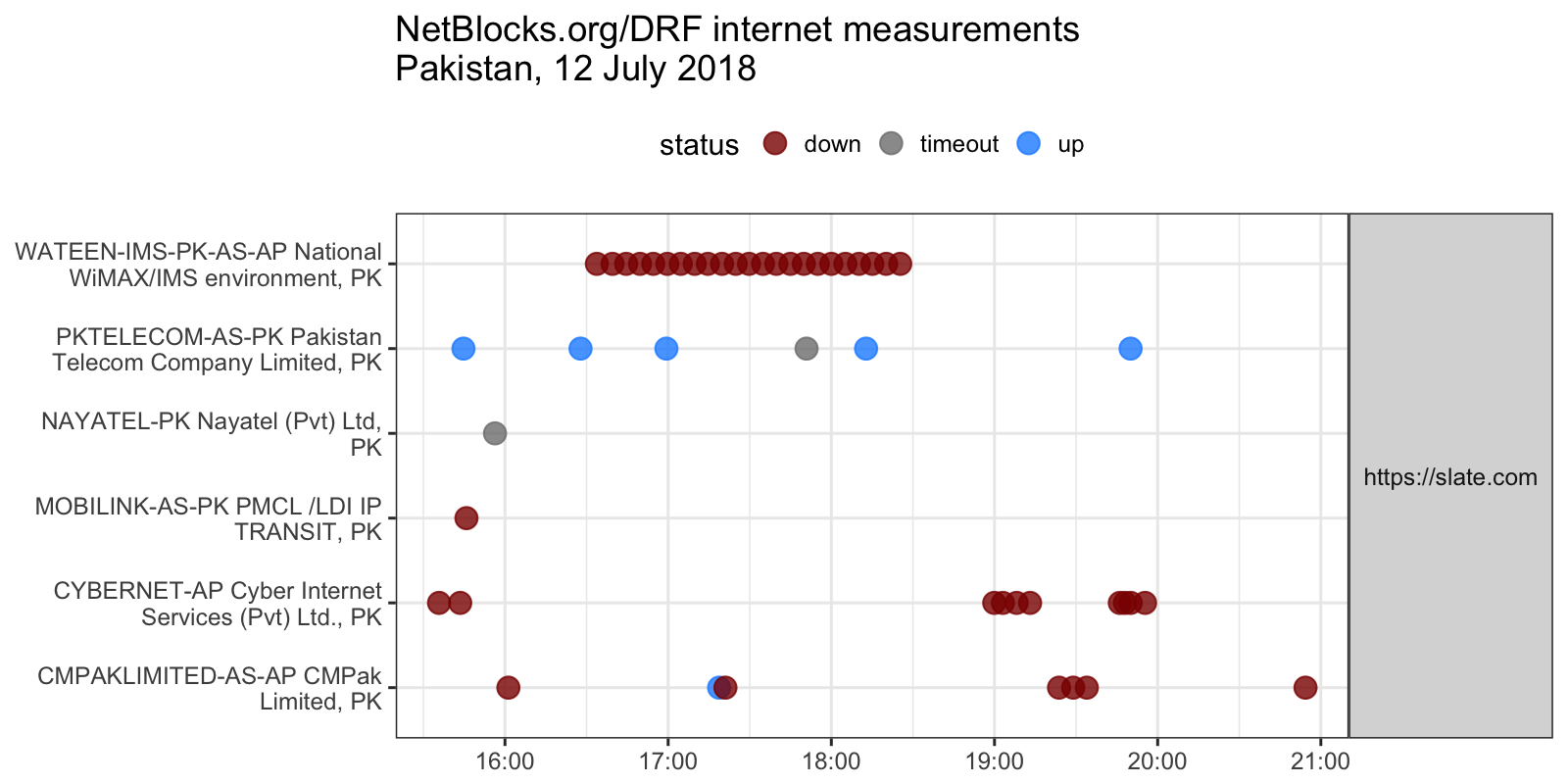 The organisations informed Slate of the blocking, who then said they were unaware of the incident. In response Slate has cooperated with Digital Rights Foundation by sharing visitor statistics that depict an evident drop in traffic from Pakistan during July 2018.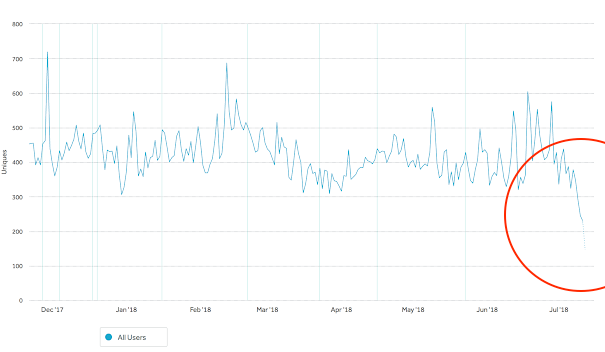 As Pakistan prepares to hold its general elections in less than two weeks, this action by the authorities is alarming and points to the larger crackdown on dissent and free expression in the country.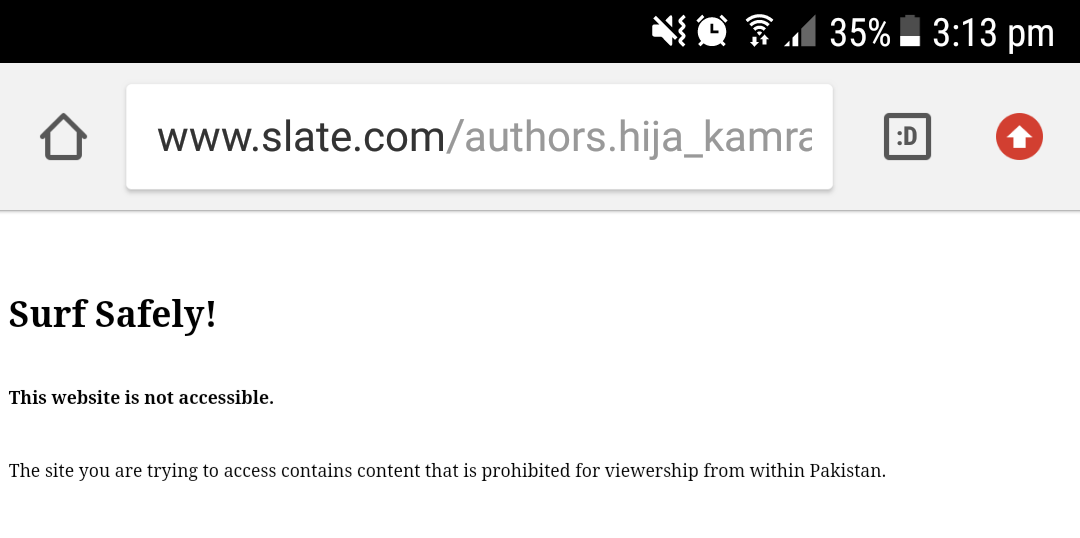 There has been no official notification from the Pakistani authorities on the blocking of slate.com even though multiple attempts of accessing the website reflect that it was blocked on the orders of Pakistan Telecommunications Authority (PTA).
"The blocking of an international independent media outlet is a blatant violation to both internet and press freedom", Hannah Machlin, Global Advocacy Manager, NetBlocks said.

"The fact that this incident occurred in a democratic country in the run up to their general elections, underlines the importance of digital observation. We will continue to closely monitor Pakistan and the rest of the world in order to uncover and verify censorship attempts," Machlin, added.
The Internet has become a primary source of communication for people across borders. From delivering news to seeking information on new developments, online media has transformed into an essential part of how people exercise their right to information. At times when mainstream media adopts its news from online platforms, it is important that these media are kept free and open for all to access without disruption and discrimination.
Attempting to censor and restrict critical and independent voices harms Pakistan's global outlook. We believe that press freedom has increasingly become dependent on digital freedom, and emphasize that it is crucial to keep both mainstream media and online media open for all.
Pakistan has a rich history of censorship since the advent of modern technology. From columns pulled out from newspapers to news channels forced off-air, a comparatively recent three-year ban on YouTube in the country that was lifted in 2016, and multiple websites being blocked in the name of national security or obscenity to social media blackouts and partial and complete network shutdowns – the country is not alien to the concept of technological disruptions. The crackdown on dissent by various forceful attempts is testament to the violation of constitution and universal treaties that Pakistan has signed to protect freedom of speech and press in the country.
---
The NetBlocks Group is a civil society group working at the intersection of digital rights, cyber-security and internet governance. Independent and non-partisan, NetBlocks strives for an open and inclusive digital future for all.
Digital Rights Foundation is a registered research based advocacy NGO focusing on ICT to support human rights, democratic processes, and digital governance.
---
Methodology
Internet performance and service reachability are determined via NetBlocks web probe privacy-preserving analytics. Each measurement consists of latency round trip time, outage type and autonomous system number aggregated in real-time to assess service availability and latency in a given country. Network providers and locations are enumerated as vantage point pairs. The root cause of a service outage may be additionally corroborated by means of traffic analysis and manual testing as detailed in the report.