The NetBlocks internet observatory has identified internet outages affecting Venezuela's eastern regions of Maturin and Guayana. Measurements show the disruptions began at 5:30PM UTC Sunday, 3 February 2019 and are currently ongoing.
The outage matches the timing and locality of a similar blackouts last Sunday which began at 5:30PM UTC Sunday, 26 January 2019 and lasted 28 hours, indicating a possible internet curfew is being implemented by state-run provider CANTV.
Maturin has been politically active in recent days, holding large rallies demanding a change of government in the midst of a growing political crisis.
NetBlocks diffscans, which map the entire IP address space of a country in real time, provide evidence of the scope and timing of the current disruptions:
Confirmed: Internet outages across eastern #Venezuela, #Maturin and #Guayana starting 5:30PM UTC (1:30PM VET); identical timing to last Sunday's disruption indicates regional internet curfew in effect #KeepItOnhttps://t.co/1oG0Nudwtm pic.twitter.com/BLZy7alS5P

— NetBlocks.org (@netblocks) February 3, 2019
The measurements corroborate user reports from Maturin of broken internet connectivity. Users with access to privately-owned internet services remain online.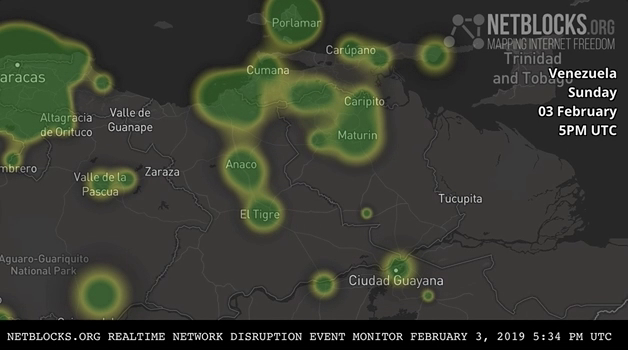 ---
The NetBlocks Group is a civil society group working at the intersection of digital rights, cyber-security and internet governance. Independent and non-partisan, NetBlocks strives for an open and inclusive digital future for all.
[ methodology handbook | press | contact ] Graphics and visualizations provided under a free and open license for reuse with clear attribution.