Network data from the NetBlocks internet observatory show that mobile network operator Claro has suffered severe outages beginning 20:00 UTC (3 p.m. local time), Saturday 12 October 2019, lasting for several hours.
Confirmed: Severe disruption to #Claro mobile internet service across #Quito from ~20:00 UTC (3 p.m. local time) as #Ecuador crisis escalates 📉

📰 https://t.co/2ExbFY54zq pic.twitter.com/6P13WjAkuW

— NetBlocks (@netblocks) October 13, 2019
The outages have been widely reported by customers and come as the Army has been deployed in Ecuador with curfews ordered by President Moreno.
The new incident follows recently reported network disruptions that were confirmed to affect access to online services with state-owned network operator CNT on Monday, 7 October 2019.
Which services are impacted?
Claro, one of Ecuador's leading mobile operators, has been affected by the multi-hour regional outage.
Saturday's Claro disruption has come in two phases. The initial disruption, beginning ~19:30 UTC, impacted much of Ecuador but had a short duration. Shortly after, the disruption was localized to Quito and has continued for several hours.
NetBlocks measurements corroborate reports from hundreds of users, as well as friends and family who have been unable to reach loved ones in Quito, who are reporting the cut through social media and online forums:
¿Me confirman si alguien más tiene problemas con su señal de internet en #Quito? Necesito saber en qué lugares, de ser el caso. Muy amables.

— Nestor Aguilera 🇪🇨 (@Nestor_Aguilera) October 12, 2019
Why has Ecuador declared a state of emergency?
Protesters including indigenous groups and citizens affected by austerity measures have been on the streets protesting for several days.
However, events took a dramatic turn over the weekend with hundreds of arrests, the deployment of troops, several reported casualties at least one confirmed death. A national state of emergency was subsequently declared.
The network disruptions were identified shortly after videos were posted to social media showing armored vehicles rolling onto the streets of Quito.
In that instance, users resorted to circumvention tools to work around the restrictions.
On Tuesday, Ecuadorian President Lenin Moreno announced that his government will relocate from the capital city of Quito. The country has since introduced curfews in several regions.
We thank Fundación Karisma and the Association for Progressive Communications for continued assistance and background in the preparation of this report.
Previously: Evidence of social media disruptions in Ecuador as crisis deepens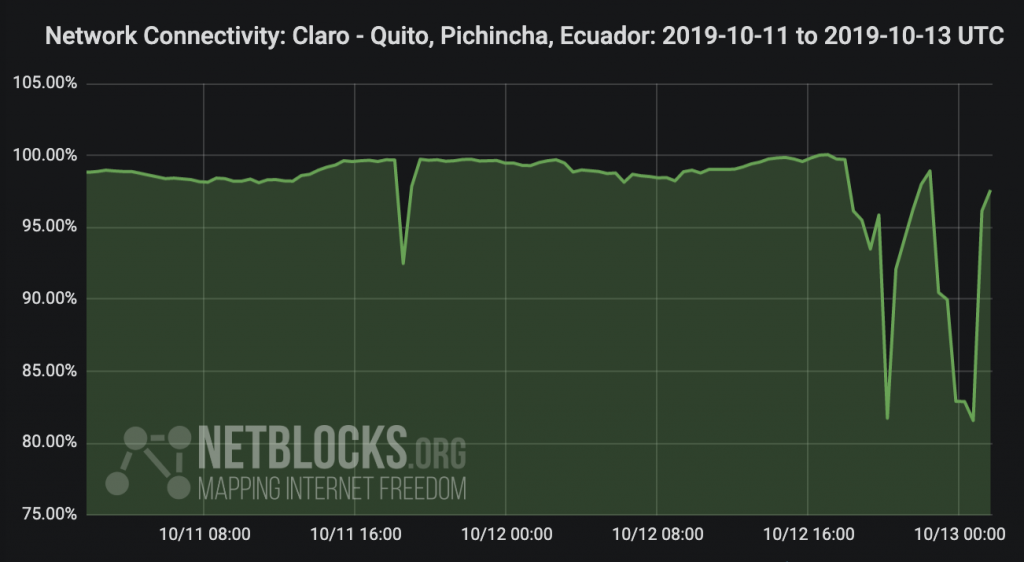 ---
Methodology
NetBlocks diffscans, which map the IP address space of a country in real time, show internet connectivity levels and corresponding outages. Purposeful internet outages may have a distinct network pattern used by NetBlocks to determine and attribute the root cause of an outage, a process known as attribution which follows detection and classification stages.
---
NetBlocks is an internet monitor working at the intersection of digital rights, cyber-security and internet governance. Independent and non-partisan, NetBlocks strives to deliver a fair and inclusive digital future for all.
[ press | contact ] Graphics and visualizations are provided for fair use in unaltered form reflecting the meaning and intent in which they were published, with clear credit and source attribution to NetBlocks. Intellectual property rights are protected including but not limited to key findings, facts and figures, trademarks, copyrights, and original reporting, are held by NetBlocks. Citation and source attribution are required at the point of use.