Network data from the NetBlocks internet observatory confirm significant disruption to internet connectivity across parts of Louisiana and Texas as Hurricane Laura makes landfall in the U.S. Gulf Coast and moves inland on Thursday 27 August 2020.
The network outages are likely to significantly impact communications with storm victims and may hamper rescue and recovery efforts.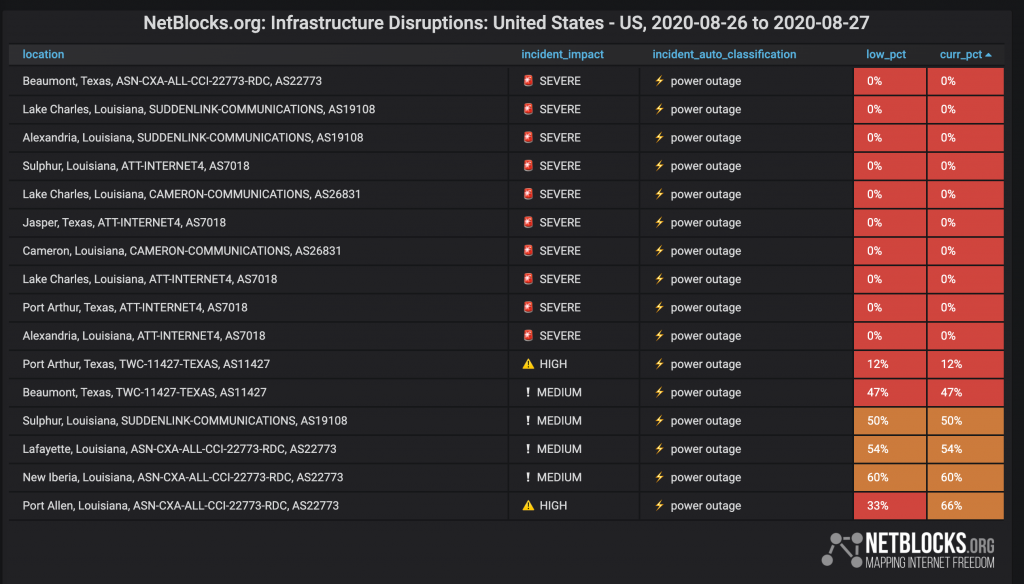 The bulk of the telecommunications disruptions are provisionally attributed to the impact of power outages at the edge of the network. There are further indications that communications infrastructure has collapsed in some areas due to wind damage, severed lines and storm surges. Impacts are observed moving inland at the time of writing.
⚠️ Alert: Massive telecommunications outages registered as Hurricane #Laura knocks out power and internet infrastructure in parts of of #Louisiana and #Texas; high impact registered in #LakeCharles #Beaumont #PortArthur and other locations 🌪

📰 https://t.co/5T88oHCGGg pic.twitter.com/vO6ZLzARx6

— NetBlocks (@netblocks) August 27, 2020
Further reading:
Past telecommunications disruptions during weather and power outage incidents from the Internet Observatory:
---
Methodology
NetBlocks diffscans, which map the IP address space of a country in real time, show internet connectivity levels and corresponding outages. Purposeful internet outages may have a distinct network pattern used by NetBlocks to determine and attribute the root cause of an outage, a process known as attribution which follows detection and classification stages.
A summary of data visualizations used in this report:
Network Connectivity (Regional): Selected internet providers and networks geolocated to their approximate region are displayed in a data table to identify the impacts and recovery status of an internet outage event. Percentages are approximate, and low figures often indicate but do not strictly infer a total outage at listed provider/location points.
---
NetBlocks is an internet monitor working at the intersection of digital rights, cyber-security and internet governance. Independent and non-partisan, NetBlocks strives to deliver a fair and inclusive digital future for all.
[ press | contact ] Graphics and visualizations are provided for fair use in unaltered form reflecting the meaning and intent in which they were published, with clear credit and source attribution to NetBlocks. Intellectual property rights are protected including but not limited to key findings, facts and figures, trademarks, copyrights, and original reporting, are held by NetBlocks. Citation and source attribution are required at the point of use.