Mobile internet speeds in Bangladesh plummeted by a factor of ten overnight, restricting access to information and limiting online sharing, according to NetBlocks web probe metrics. The internet shutdown follows an order from Telecommunication Regulatory Commission to degrade cellular networks to suppress coverage of student protests in Dhaka.
Update: Internet disruptions intensifying across #Bangladesh today, particularly in in and around #Dhaka. Data suggests targeted, localized just-in-time blocking in response to protests, threatening #PressFreedom and safety #KeepItOnhttps://t.co/b0qJri4uqu pic.twitter.com/eQsK3VmA7h

— NetBlocks (@netblocks) August 5, 2018
NetBlocks network measurements from Saturday evening show a sudden increase in access from Bangladesh IP address ranges assigned for 2G and 2.5G GPRS subscribers, indicating that mobile operators have complied with the order. Most modern handsets are able to fall back to the legacy standard introduced in the 1990s, although users will suffer a negative impact in terms of speed, security and privacy.
Dozens of students were injured in clashes in Bangladesh's capital on the seventh day of a youth protest about road safety. The internet shutdowns are implemented as a measure to send thousands of pupils out on Dhaka's roads back to their homes, however the measures have caused outrage online and may have raised the profile of the cause as more protests look set to take place on Sunday.
Mobile networks in #Bangladesh have been degraded to 2G speeds overnight, following an internet shutdown order issued by authorities to suppress growing #Dhaka student protests #KeepItOnhttps://t.co/b0qJri4uqu pic.twitter.com/4WNmX5tkB8

— NetBlocks (@netblocks) August 5, 2018
Although social media platforms including Twitter and Facebook do not appear to be blocked by providers, the slowdown is likely to render online platforms less useful for sharing of video and photographic coverage from the scene of the protests, posing a threat to media coverage of disputed incidents in and around Dhaka.
By Saturday morning, hundreds of Twitter users from Bangladesh reported difficulty posting content online, among a range of other complaints including power outages and fixed-line disconnections coinciding with attacks against student protesters by organised mobs.
NetBlocks differential scans, which sweep a randomised sample of IP addresses for reachability, have also provided indications that other measures may be coming into place to restrict fixed-line internet infrastructure, although these outages appear to be limited in magnitude.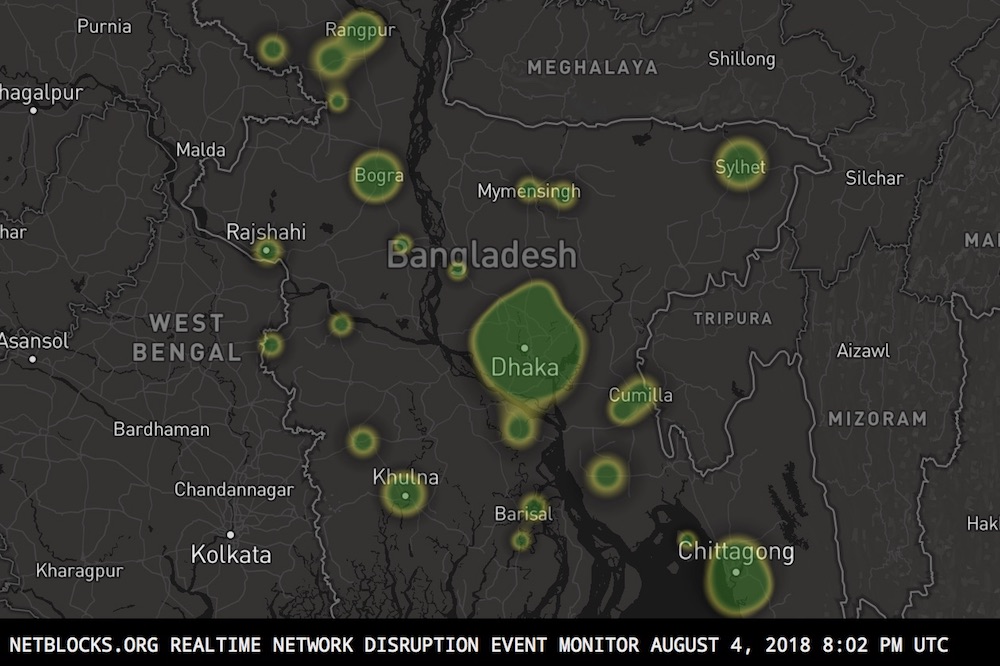 ---
Methodology
NetBlocks diffscans, which map the IP address space of a country in real time, show internet connectivity levels and corresponding outages. Purposeful internet outages may have a distinct network pattern used by NetBlocks to determine and attribute the root cause of an outage, a process known as attribution which follows detection and classification stages.
Internet performance and service reachability are determined via NetBlocks web probe privacy-preserving analytics. Each measurement consists of latency round trip time, outage type and autonomous system number aggregated in real-time to assess service availability and latency in a given country. Network providers and locations are enumerated as vantage point pairs. The root cause of a service outage may be additionally corroborated by means of traffic analysis and manual testing as detailed in the report.
---
NetBlocks is an internet monitor working at the intersection of digital rights, cyber-security and internet governance. Independent and non-partisan, NetBlocks strives to deliver a fair and inclusive digital future for all.
[ press | contact ] Graphics and visualizations are provided for fair use in unaltered form reflecting the meaning and intent in which they were published, with clear credit and source attribution to NetBlocks. Intellectual property rights are protected including but not limited to key findings, facts and figures, trademarks, copyrights, and original reporting, are held by NetBlocks. Citation and source attribution are required at the point of use.