Network data from the NetBlocks internet observatory confirm outages of YouTube, GMail and other Google services in multiple countries.
The disruptions are consistent with a technical error or connectivity fault between regional datacenters and are not related to state filtering of online platforms.
Confirmed: YouTube, GMail and Google services down in multiple countries from 7:30 a.m.; high impact in Turkey, Eastern Europe; incident not related to state filtering or censorship; probable issue at datacenter; service intermittent #YoutubeDownhttps://t.co/FpDRXvB26Y

— NetBlocks (@netblocks) December 19, 2019
Users in Turkey, Bulgaria and Eastern Europe first reported difficulty accessing multiple Google services on the morning of Thursday, 19 December 2019. The incident sparked fears of an instance of state censorship among some users.
An internet cut was registered across Iran just as international Google service outages began Thursday morning, although causality between the two incidents has not been confirmed.
A modest fall in national connectivity levels was also observed in affected countries, pointing to an international connectivity issue as a likely root cause for the Google outages. The full list of impacted regions remains unknown and no statement has been issued by Google at the time of writing.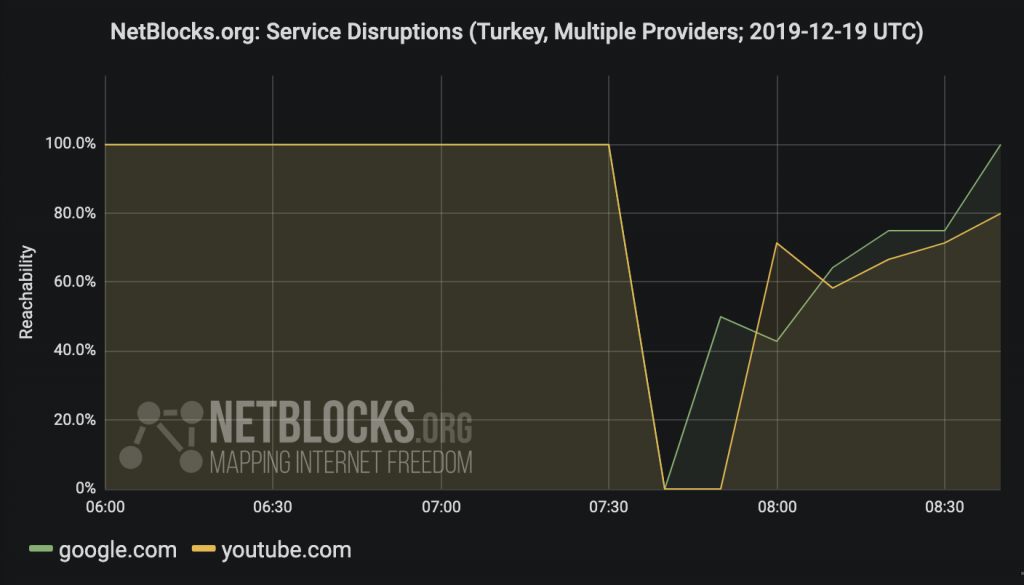 ---
Methodology
Internet performance and service reachability are determined via NetBlocks web probe privacy-preserving analytics. Each measurement consists of latency round trip time, outage type and autonomous system number aggregated in real-time to assess service availability and latency in a given country. Network providers and locations are enumerated as vantage point pairs. The root cause of a service outage may be additionally corroborated by means of traffic analysis and manual testing as detailed in the report.
---
NetBlocks is an internet monitor working at the intersection of digital rights, cyber-security and internet governance. Independent and non-partisan, NetBlocks strives to deliver a fair and inclusive digital future for all.
[ press | contact ] Graphics and visualizations are provided for fair use in unaltered form reflecting the meaning and intent in which they were published, with clear credit and source attribution to NetBlocks. Intellectual property rights are protected including but not limited to key findings, facts and figures, trademarks, copyrights, and original reporting, are held by NetBlocks. Citation and source attribution are required at the point of use.