Network data from the NetBlocks internet observatory confirm disruptions to multiple fixed-line and mobile providers in Iran on the morning of Thursday, 19 December. The outage had partial but severe impact for just over two hours and corresponded with lesser internet disruptions in nearby countries.
Confirmed: Major internet disruption registered in #Iran from 7:30 a.m. UTC (11:00 a.m. local time); real-time network data show national connectivity levels below 50%; incident ongoing 📉

📰https://t.co/rpQRmmUsot pic.twitter.com/oEflBKud84

— NetBlocks (@netblocks) December 19, 2019
The timing of the new incident in Iran matches outages of YouTube and Google services in multiple countries on Thursday morning.
Update: Internet connectivity in #Iran restored to normal levels after major disruption. Timings match Google platform outages and partial disconnections in nearby countries (see report) pointing to international issue; incident duration ~2 hours 📈

📰https://t.co/FpDRXvB26Y pic.twitter.com/h7nHLXa3WI

— NetBlocks (@netblocks) December 19, 2019
A modest fall in connectivity was also recorded in neighboring countries including Turkey and Azerbaijan through the two hour time window.
Confirmed: YouTube, GMail and Google services down in multiple countries from 7:30 a.m.; high impact in Turkey, Eastern Europe; incident not related to state filtering or censorship; probable issue at datacenter; service intermittent #YoutubeDownhttps://t.co/FpDRXvB26Y

— NetBlocks (@netblocks) December 19, 2019
Investigations are ongoing to identify a root cause origin for the internet disruptions.
Background
Iran shut down internet access mid-November amid widespread public protests.
Update: #Iran remains partially offline after reports of intermittent service followed by a sharp decline in connectivity at 21:15 UTC (12:45 am local time); impact visible at national scale affecting multiple networks; incident ongoing #IranProtests 📉

📰https://t.co/1Al0DT8an1 pic.twitter.com/dWKDgAco41

— NetBlocks (@netblocks) November 15, 2019
The November disruptions were introduced through 24 hours culminating in a disconnection of all mobile networks followed by a near-total national internet blackout and partial shutdown of telephony services lasting several days.
During that period, access to limited national services became available for some users as part of the country's national intranet, or National Information Network.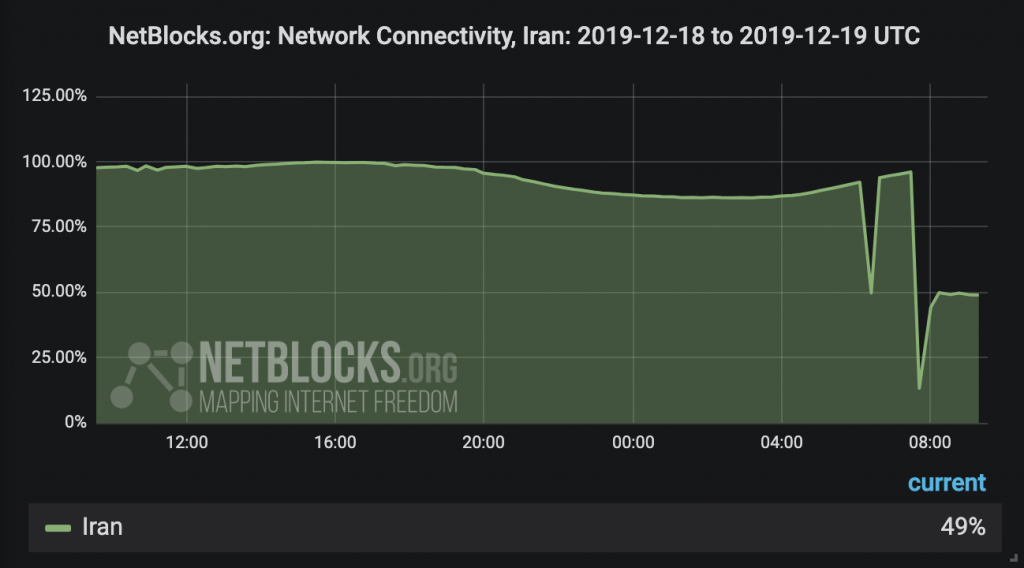 ---
Methodology
NetBlocks diffscans, which map the IP address space of a country in real time, show internet connectivity levels and corresponding outages. Purposeful internet outages may have a distinct network pattern used by NetBlocks to determine and attribute the root cause of an outage, a process known as attribution which follows detection and classification stages.
---
NetBlocks is an internet monitor working at the intersection of digital rights, cyber-security and internet governance. Independent and non-partisan, NetBlocks strives to deliver a fair and inclusive digital future for all.
[ press | contact ] Graphics and visualizations are provided for fair use in unaltered form reflecting the meaning and intent in which they were published, with clear credit and source attribution to NetBlocks. Intellectual property rights are protected including but not limited to key findings, facts and figures, trademarks, copyrights, and original reporting, are held by NetBlocks. Citation and source attribution are required at the point of use.