Internet connectivity in Iran has been significantly disrupted according to real-time network data, as of 8:00 p.m. UTC Wednesday 26 Jun 2019. Network data indicate international routing issues.
The disruption comes as Iran faces new sanctions imposed by the United States and as it seeks to address concerns of cyber-attacks from its foreign adversaries. Iran is reportedly soon due to surpass Uranium storage capacity limits set under JCPOA Iran Nuclear Deal rules.
Confirmed: Major internet disruption registered across #Iran amid geopolitical crisis; real-time network data indicate international connectivity drop to 65% of normal levels; live report #KeepItOn 📉https://t.co/7mkXglLg8Y pic.twitter.com/xPz6fJkDmp

— NetBlocks (@netblocks) June 26, 2019
Many but not all of Iran's providers are affected according to current measurements, with connectivity to international vantage points currently registering at 65% of normal levels.
A breakdown of current internet connectivity to Iran by provider shows ongoing volatility with some signs of recovery following the initial disruption:
Update: A breakdown of current internet connectivity to #Iran by provider shows ongoing volatility with some signs of recovery.

Real-time network measurements show overall reachability currently at 85% 📊https://t.co/7mkXgltFhq pic.twitter.com/2PzkGHnkgw

— NetBlocks (@netblocks) June 26, 2019
Early indications were consistent with either an accidental or purposeful cut in international connectivity. The disruption has not yet been attributed, although possible explanations include a cyber-attack or DDoS on Iranian infrastructure, the withdrawal of connectivity from countries that peer with Iran, or a possible move toward a "sovereign internet" model that prioritizes domestic network traffic.
Update: 12:30 a.m. 27 June UTC – Iranian ICT Minister Azari Jahromi has responded, suggesting a "disruption of fiber connectivity" at upstream routes supplying Iran from Europe as the source of the outage. While the minister cites a 1.5 hour disruption, network data show that some impact continues at the time of writing and the incident's origin remains unexplained:
همانطور که در گراف زیر دیده می‌شود، قطعی فیبر در مسیرهای بالادستی در اروپا بین بلغارستان و فراکفورت که چند تامین کننده اینترنت ایران، از آن مسیرها استفاده می‌کرده‌اند باعث اختلال گسترده ۱/۵ ساعته در ارتباطات بین‌المللی ایران شده بود. هزار گیگابیت برثانیه قطعی ظرفیتها داشتیم pic.twitter.com/Vn0mJF5fgX

— MJ Azari Jahromi (@azarijahromi) June 27, 2019
asked Iran ICT minister ab disruption in internet connectivity; his response: disruption in fiber connection on upstream routes in Eu between Bulgaria & Frankfurt, used by several ISPs in Iran, causing major disruption in Iran's intl communications for 1.5h.
cc @netblocks https://t.co/FlxdqjUkWR

— Hadi Nili (@HadiNili) June 27, 2019
Iran's internet infrastructure is highly developed with connectivity supplied to consumers and businesses by a range of public and private telecom operators. NetBlocks service reachability metrics show extensive, long-term filtering of most major international social media, news media, blogging platforms, and messaging applications on grounds of public morality or national security. Other services are restricted at source by technology companies in compliance with U.S. export controls and sanctions.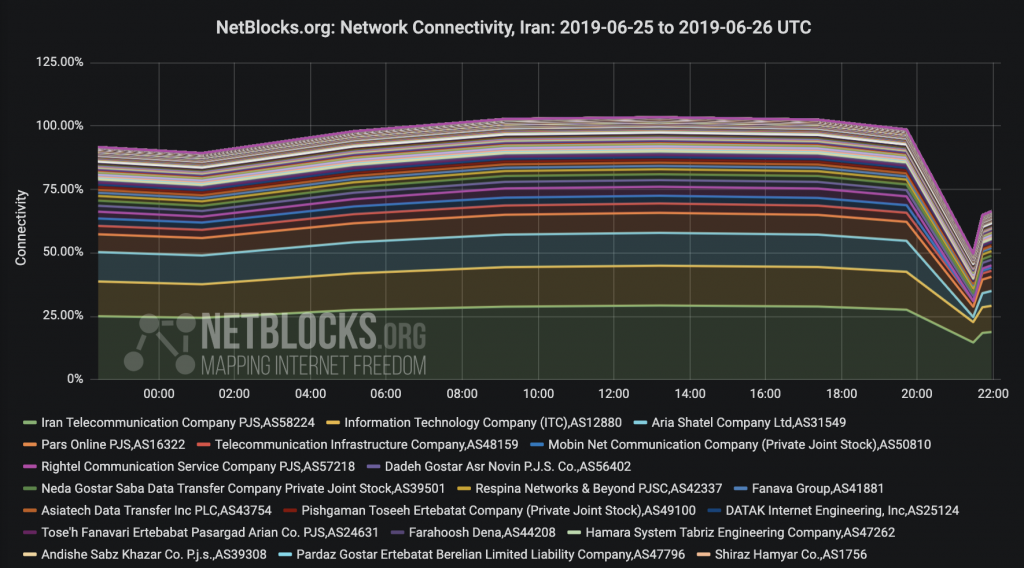 ---
Methodology
NetBlocks diffscans, which map the IP address space of a country in real time, show internet connectivity levels and corresponding outages. Purposeful internet outages may have a distinct network pattern used by NetBlocks to determine and attribute the root cause of an outage, a process known as attribution which follows detection and classification stages.
---
NetBlocks is an internet monitor working at the intersection of digital rights, cyber-security and internet governance. Independent and non-partisan, NetBlocks strives to deliver a fair and inclusive digital future for all.
[ press | contact ] Graphics and visualizations are provided for fair use in unaltered form reflecting the meaning and intent in which they were published, with clear credit and source attribution to NetBlocks. Intellectual property rights are protected including but not limited to key findings, facts and figures, trademarks, copyrights, and original reporting, are held by NetBlocks. Citation and source attribution are required at the point of use.