Data collected by the NetBlocks internet observatory in collaboration with volunteers across Iraq since Friday present new insights into the variety of internet restrictions that have been implemented to suppress protests.
We are publishing new data showing multiple methods used by #Iraq to suppress internet access during #IraqProtests, varying across different regions of the country #KeepItOnhttps://t.co/KrcYxxnfS2 pic.twitter.com/J80L4iOMoZ

— NetBlocks (@netblocks) July 15, 2018
For the first time, the study provides data on the extent of different information controls that have been used in the cities and provinces of Iraq.
The protests originating in Basra amid growing anger in Iraq over poor public services and widespread corruption have continued to spread, turning deadly with the killing of protesters by Iraqi security forces on Saturday.
Iraq is known to use internet controls to suppress dissent, provide operational security during conflicts, and even as a measure to prevent cheating in school exams. Internet users reported internet connectivity disruptions beginning on Saturday the 14th of July.
Connectivity returned briefly between 20:00 UTC and 22:00 UTC Sunday before a second ongoing blackout commenced, as shown by real-time network scans. The brief restoration made it possible to determine that the social media restrictions, first observed in Northern Iraq, appear to be implemented nation-wide.
Update: and it's gone again; #Iraq cuts off the internet a *second time* beginning 22:00 UTC, disconnecting the same geographic regions as earlier #IraqProtests #KeepItOnhttps://t.co/KrcYxxnfS2 pic.twitter.com/xT4L4uJVZQ

— NetBlocks (@netblocks) July 15, 2018
Shedding light on the nature of these disruptions, the NetBlocks network measurements give depth to reports both of a full internet shutdown and of partial restrictions, including social media blocking, emerging from distinct regions of Iraq during the ongoing crisis.
Baghdad, Basra and outwards: Full internet shutdown
A full internet shutdown is in place affecting the largest population centres of Iraq and most provinces, including much of Baghdad, all of Basra and Kirkuk.
Northern Iraq: Twitter and Facebook blocked
NetBlocks scans indicate that the internet has remained on in other areas including predominantly Kurdish regions of northern Iraq including Irbil, which exercises a degree of autonomy from central government.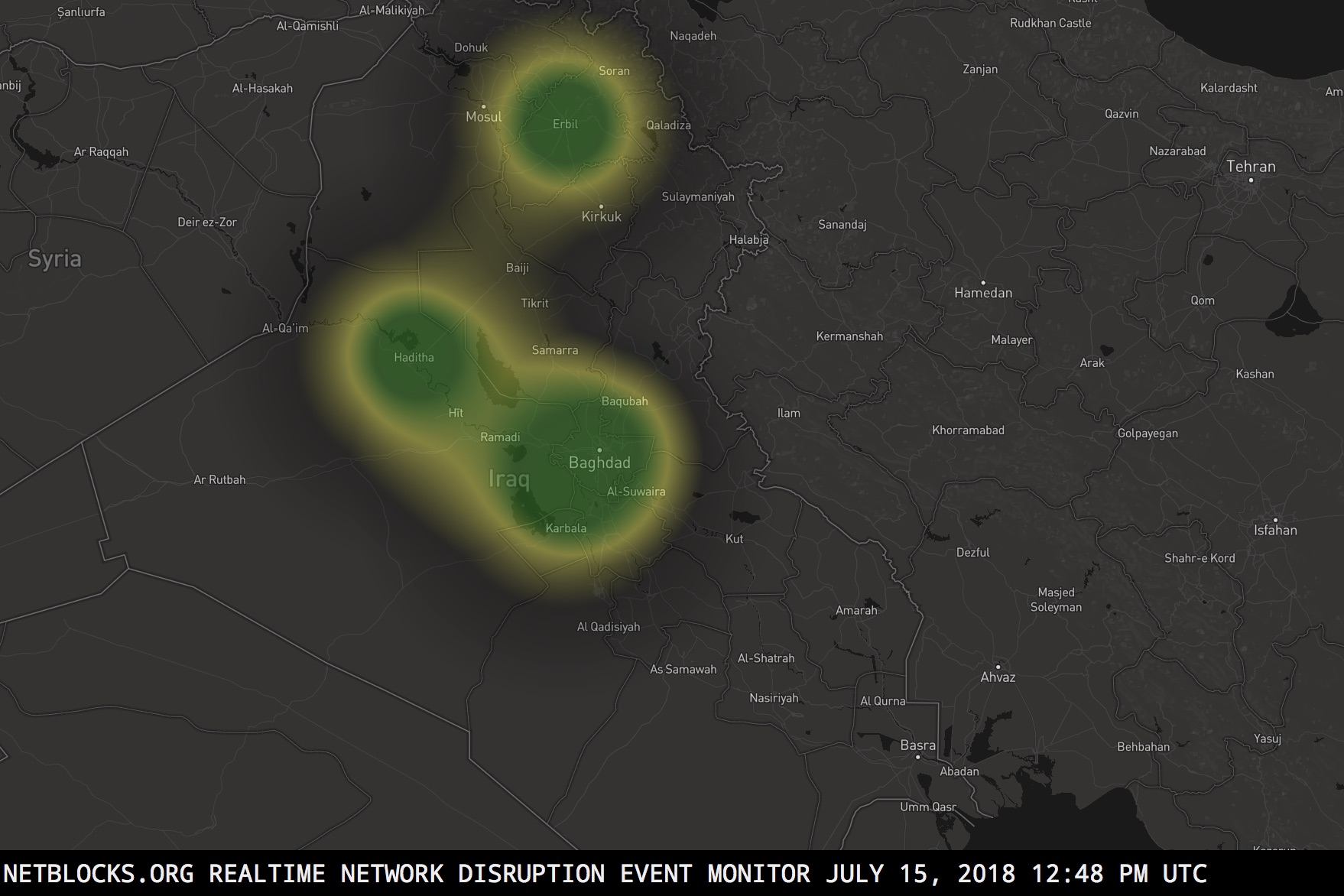 Web probe scans show that social media including Twitter and Facebook and some messaging apps are restricted in those regions unaffected by the full telecommunications blackout indicated green in the map visualization.
Impact on right to free expression, assembly and economy
NetBlocks notes that internet shutdowns are harmful to local communities and cause damage to economic development, an important factor in fostering and sustaining peace.
The ongoing internet shutdown may be costing #Iraq's economy some $40,000,000 per day in lost business according to the @netblocks/@internetsociety COST tool #IraqiProtests #KeepItOn https://t.co/n4R7FTQ44Q

— Isik Mater🌻 (@isik5) July 15, 2018
The present internet shutdown may cost Iraq's economy some $40,000,000 per day in lost business, sales and opportunities as it enters the working week according to figures from the COST tool based on the Brookings Institution economic impact methodology for internet shutdowns.
---
Methodology
NetBlocks diffscans, which map the IP address space of a country in real time, show internet connectivity levels and corresponding outages. Purposeful internet outages may have a distinct network pattern used by NetBlocks to determine and attribute the root cause of an outage, a process known as attribution which follows detection and classification stages.
---
NetBlocks is an internet monitor working at the intersection of digital rights, cyber-security and internet governance. Independent and non-partisan, NetBlocks strives to deliver a fair and inclusive digital future for all.
[ press | contact ] Graphics and visualizations are provided for fair use in unaltered form reflecting the meaning and intent in which they were published, with clear credit and source attribution to NetBlocks. Intellectual property rights are protected including but not limited to key findings, facts and figures, trademarks, copyrights, and original reporting, are held by NetBlocks. Citation and source attribution are required at the point of use.