The NetBlocks internet observatory has identified internet outages attributed to power supply disruptions affecting Venezuela's eastern regions covering Táchira, San Cristóbal, Mérida, Trujillo, Barinas and Santa Barbara del Zulia. Measurements show the disruptions began just after 4:00AM UTC (12:00 AM VET) Friday. The incident has been ongoing for over 20 hours with six distinct, brief intermissions.
Táchira has been politically active through recent days, and NetBlocks has tracked a series of targeted disruptions relating to incidents in the region. In the last week, houses of citizens in San Antonio who participated in protests were marked with paint by pro-government groups, sparking fears of a crackdown on dissidents and prompting speculation for an underlying political motivation to explain the cuts. In the later hours of the outage, hospitals have reported failures of intensive care units although the rising human impact to local communities remains unknown.
NetBlocks diffscans, which map the entire IP address space of a country in real time, show internet outages corresponding to power cuts in the region:
Widespread power disruptions in southwest in #Venezuela affecting #Táchira, San Cristóbal, Trujillo, Mérida, Barinas and Zulia ongoing for over 20 hours can be mapped using network scans to assess extent and human impacthttps://t.co/z6pJsLzrNS pic.twitter.com/rgG3Kyt2nQ

— NetBlocks.org (@netblocks) March 2, 2019
Internet outages caused by electricity grid disruptions have a distinct network pattern used by NetBlocks to determine and attribute the root cause of an outage, a process known as attribution which follows detection and classification stages. Residents report being without critical infrastructure, lighting, water and gas supply during the 20 examined hour period.
The timing and coincidence with events of political significance in the region are likely to fuel suspicion of foul play. However the country is known to frequent power cuts, and Venezuela started power rationing and reduced its electricity consumption to about 14,000 megawatts at peak hours because of the economic crisis in 2018, making it difficult to produce a conclusive determination. Work is ongoing to better understand these factors using network data.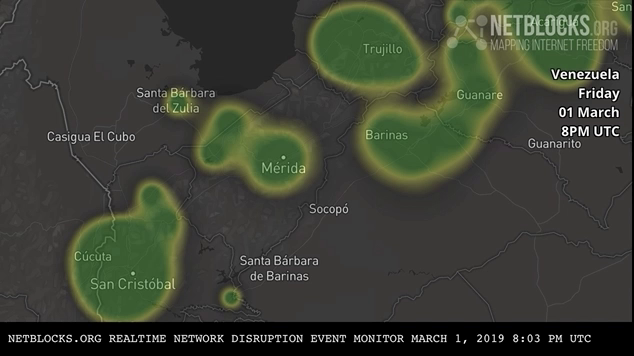 ---
The NetBlocks Group is a civil society group working at the intersection of digital rights, cyber-security and internet governance. Independent and non-partisan, NetBlocks strives for an open and inclusive digital future for all.
[ methodology handbook | press | contact ] Graphics and visualizations provided under a free and open license for reuse with clear attribution.