Network data from the Internet Observatory confirm the disruption of internet connectivity in Kyrgyzstan on the evening of Monday 5 October 2020 after protest broke out in capital city Bishkek and other cities over alleged vote rigging in yesterday's parliamentary elections.
Confirmed: Internet disruption registered in #Kyrgyzstan amid protests in Bishkek and other cities over alleged vote rigging in Sunday's parliamentary elections; network data show partial impact from 5pm UTC on multiple operators; incident ongoing 📉

📰 https://t.co/HXtW3f4ZlT pic.twitter.com/SyHtJHeGLn

— NetBlocks (@netblocks) October 5, 2020
NetBlocks diffscan metrics show a fall in connectivity on multiple providers, consistent with the slowing of service speeds. Impact is noted with both cellular and fixed line networks, corroborating widespread user reports. Data indicate that the disruption is not total, but is likely to restrict communications and flow of information to and from the scene of protests.
Major falls in connectivity were observed on autonomous systems including AS41750 (Mega-Line) and AS12997 (Kyrgyztelecom), with some coming back online toward midnight and others remaining disrupted through early morning. Providers exhibit varied incident onset times, suggesting that companies may have been individually compelled to restrict service to their subscribers.
Demonstrators took to the streets on Monday alleging vote-rigging in Sunday's parliamentary elections, to which authorities responded with counter-protest measures including tear gas and water cannon.
After the telecommunications outages came into effect, a group of breakaway protesters appeared to gain access to the White House complex, which hosts Kyrgyzstan's parliamentary and presidential offices, as well as buildings reportedly belonging to the country's secret service.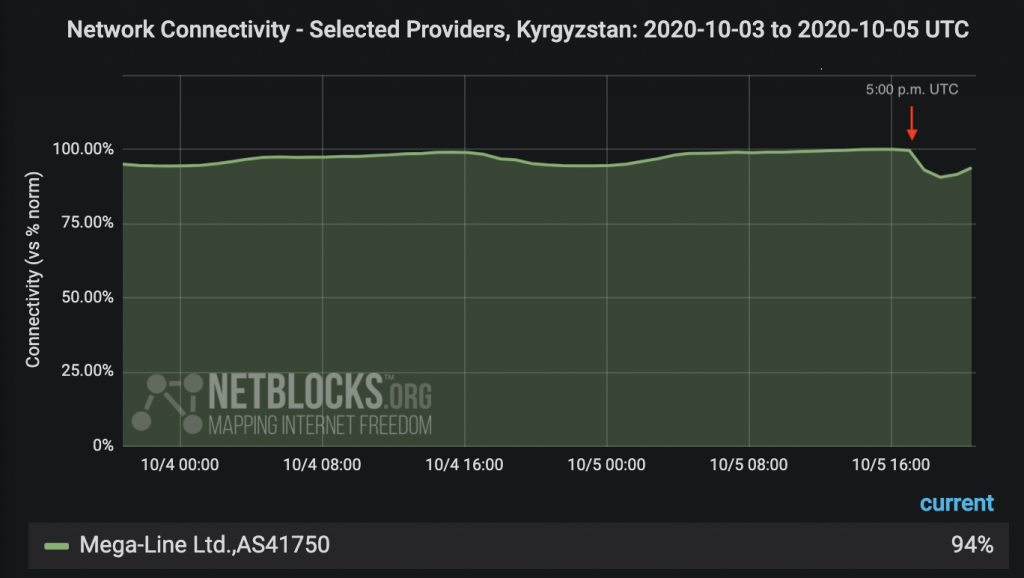 New law on information controls introduced by Kyrgyz Republic
Earlier this year, on 25 June 2020, the Parliament of the Kyrgyz Republic adopted a new law "On Manipulating Information," which specifically targets online speech that authorities allege interferes with the conduct of politics in the country.
The law's introduction in an election year raised concerns with domestic and international rights monitors, although how they are to be implemented and enforced remains unclear.
Internet restrictions are among the provisions authorised by the new law. Authorities have not disclosed whether the present disruptions fall under those new regulations.
---
Methodology
This report follows the NetBlocks Election Pathfinder Rapid Response methodology which defines a set of core principles, workflows and benchmarks for network measurement and evaluation during elections and referenda.
NetBlocks diffscans, which map the IP address space of a country in real time, show internet connectivity levels and corresponding outages. Purposeful internet outages may have a distinct network pattern used by NetBlocks to determine and attribute the root cause of an outage, a process known as attribution which follows detection and classification stages.
---
NetBlocks is an internet monitor working at the intersection of digital rights, cyber-security and internet governance. Independent and non-partisan, NetBlocks strives to deliver a fair and inclusive digital future for all.
[ press | contact ] Graphics and visualizations are provided for fair use in unaltered form reflecting the meaning and intent in which they were published, with clear credit and source attribution to NetBlocks. Intellectual property rights are protected including but not limited to key findings, facts and figures, trademarks, copyrights, and original reporting, are held by NetBlocks. Citation and source attribution are required at the point of use.