Internet providers in Egypt are blocking access to an estimated 34,000 internet domains in an apparent bid to stamp out an opposition campaign launched last week under the slogan Void, according to new NetBlocks internet measurement data.
Websites and subdomains unreachable via Telecom Egypt, Raya, Vodafone and Orange include prominent technology startups, self-help websites, celebrity homepages, dozens of Open Source technology projects, as well as Bahá'í, Jewish and Islamic faith group websites and NGOs.
The set of websites hosted on a shared IP address, now blocked, owned by hosting provider Netlify. The findings suggest that the Egyptian government may have incurred significant collateral damage as it seeks to restrict online content relating to the campaign, which uses the slogan Void.
Alert: #Egypt has blocked an estimated 34,000 internet domains as it attempts to restrict newly-launched opposition campaign site #Void, which has reportedly collected 250,000 signatures #KeepItOn#باطلhttps://t.co/roqjmeFu2u pic.twitter.com/WoiLLDb0uf

— NetBlocks (@netblocks) April 15, 2019
The original website for the Batel / Void campaign was first blocked hours after it reportedly gathered 60,000 signatures on Tuesday 9 April 2019 after gaining popular support against proposed changes to Egypt's constitution. Thee mirrors of the website were subsequently made unavailable with the campaign currently on its fifth iteration.
NetBlocks data confirm that the blocked sites are all served from an IP address assigned to the Netlify hosting service. Users report having to use VPN circumvention tools to work around the filters, and network measurement data show the disruptions are consistent with filters used to block online content in Egypt.
Confirmed: Opposition campaign platform #Voiceonline blocked in #Egypt after gaining 60,000 signups on day of launch in run up to constitutional referendum #باطل #Void ⬇️https://t.co/Vj8zZaTW6B pic.twitter.com/5MxlWKivDr

— NetBlocks (@netblocks) April 9, 2019
The campaign, which says it has amassed 250,000 signatures, was launched in opposition to changes proposed in the upcoming constitutional referendum, which would extend presidential term limits and increase presidential control over the judiciary.
The website going by the tagline Void remains available globally outside of Egypt, with the exception of Sudan where it is also restricted. The campaign launched a fifth mirror of its website on the evening of Monday 15 April to counter state restrictions.
Egypt implements a strict regiment of internet controls on grounds of national security, recently introducing a new legal framework for the regulation of social media and website content.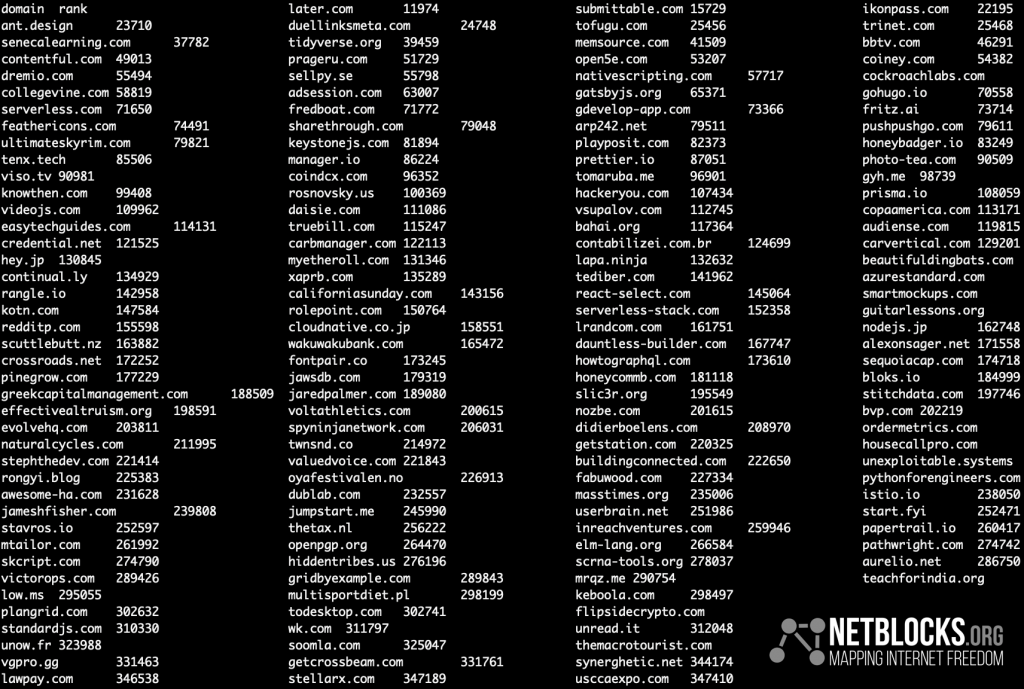 Among the 34,000 sites now partly or fully blocked in #Egypt alongside the opposition #Void campaign: some of the world's leading Open Source and scientific platforms #KeepItOn pic.twitter.com/tlaAMfw5aK

— NetBlocks (@netblocks) April 16, 2019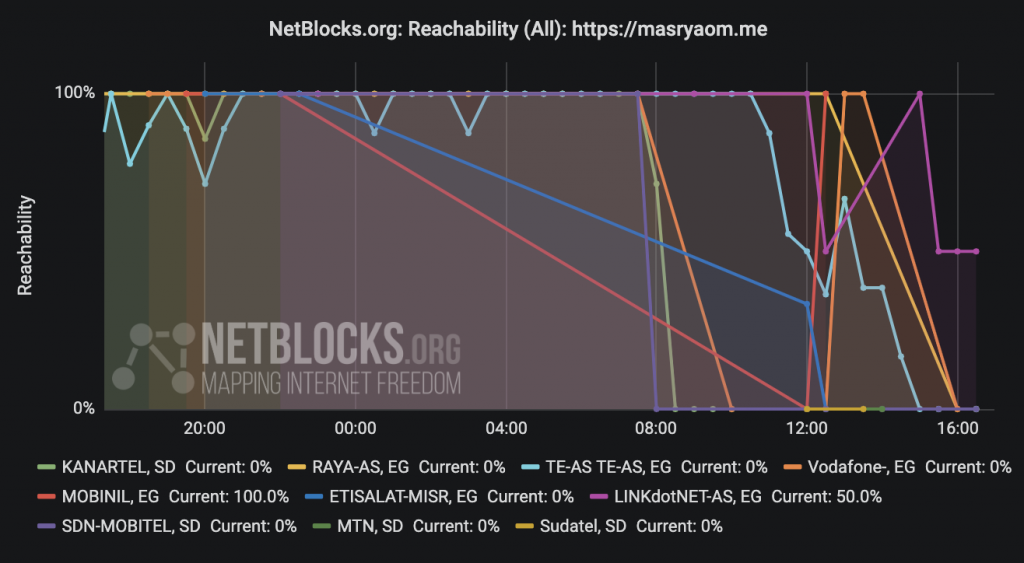 Update: The fourth campaign site for Egypt's constitutional referendum opposition movement #Void is now blocked. Timeline of filter implementation (UTC) ⬇️
🚫#Sudan providers: 8AM
🚫Vodafone, EG: 10AM
🚫Other #Egypt providers: 12PM to 4PM#باطل https://t.co/Vj8zZaTW6B pic.twitter.com/Kj9j2D8eGR

— NetBlocks (@netblocks) April 14, 2019
---
Methodology
Internet performance and service reachability are determined via NetBlocks web probe privacy-preserving analytics. Each measurement consists of latency round trip time, outage type and autonomous system number aggregated in real-time to assess service availability and latency in a given country. Network providers and locations are enumerated as vantage point pairs. The root cause of a service outage may be additionally corroborated by means of traffic analysis and manual testing as detailed in the report.
---
NetBlocks is an internet monitor working at the intersection of digital rights, cyber-security and internet governance. Independent and non-partisan, NetBlocks strives to deliver a fair and inclusive digital future for all.
[ press | contact ] Graphics and visualizations are provided for fair use in unaltered form reflecting the meaning and intent in which they were published, with clear credit and source attribution to NetBlocks. Intellectual property rights are protected including but not limited to key findings, facts and figures, trademarks, copyrights, and original reporting, are held by NetBlocks. Citation and source attribution are required at the point of use.