Network data from NetBlocks confirm a major disruption to internet connectivity in Iran from the morning of Friday 4 March 2022. Metrics show the loss of connectivity across multiple providers, corroborating user reports of loss of service in several cities including Tehran. Service was largely restored some three hours after the onset of the outage.
ℹ️ Update: Internet connectivity is being restored in #Iran following a fire at the buildings of the Telecom Infrastructure Company (TIC) which serves as the gateway for network operators in the country; incident duration ~3 hours 📈

📰 Report: https://t.co/g0evT7Zw8E pic.twitter.com/S0m14T3Vtl

— NetBlocks (@netblocks) March 4, 2022
The incident comes amid reports of a fire at the Telecom Infrastructure Company (TIC), which serves as the gateway for network operators in Iran. The use of a centralized gateway allows Iranian authorities to control the flow of information to counter cyberthreats, but has also come under scrutiny for its use to limit the public's access to information and international services.
What are the authorities saying?
Images shared by commentators and Iranian media showed fire engines dispatched to telecommunications buildings in Tehran. Authorities stated that the incident was being addressed.
مثل اینکه شرکت ارتباطات زیرساخت آتیش سوزی توش رخ داده و برخی از سایت‌های داخلی!!!!!!!!!!!!! باز نمیشن.

عجب عجب عجب.

ویدیو از کانال میلاد نوری. pic.twitter.com/G5Q3rUinLx

— [email protected] (@NarimanGharib) March 4, 2022
Further reading: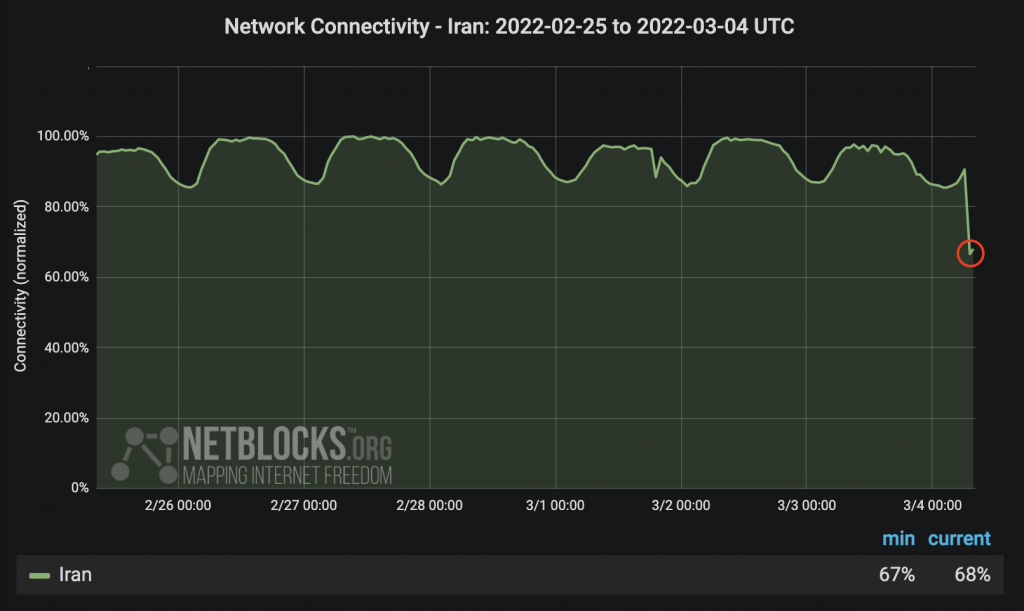 ---
Methodology
NetBlocks diffscans, which map the IP address space of a country in real time, show internet connectivity levels and corresponding outages. Purposeful internet outages may have a distinct network pattern used by NetBlocks to determine and attribute the root cause of an outage, a process known as attribution which follows detection and classification stages.
---
NetBlocks is an internet monitor working at the intersection of digital rights, cyber-security and internet governance. Independent and non-partisan, NetBlocks strives to deliver a fair and inclusive digital future for all.
[ press | contact ] Graphics and visualizations are provided for fair use in unaltered form reflecting the meaning and intent in which they were published, with clear credit and source attribution to NetBlocks. Intellectual property rights are protected including but not limited to key findings, facts and figures, trademarks, copyrights, and original reporting, are held by NetBlocks. Citation and source attribution are required at the point of use.