Network data from NetBlocks corroborate reports of a power blackout in the vicinity of the mothballed Soviet-era Chernobyl nuclear power plant in Ukraine from approximately 9 a.m. UTC on the morning of 9 March 2022, which has resulted in a major disruption to telecommunications services.
⚠️ Confirmed: Real-time network data corroborate reports of a power blackout in the vicinity of #Chernobyl and #Slavutych, #Ukraine. The incident presents a threat to safety at the mothballed Soviet nuclear power plant per authorities #Славутич

📰 Report: https://t.co/7Yg2BZnmXB pic.twitter.com/mz3KrERJv9

— NetBlocks (@netblocks) March 9, 2022
Ukrainian authorities report that it is currently impossible to repair the damaged line due to ongoing hostilities, with Energoatom stating that the loss of power presents an obstacle to the cooling of spent nuclear fuel. Ukraine's Minister of Foreign affairs added that diesel generators would begin to fail after 48 hours, after which the cooling system for spent fuel would be shut down threatening the leaking of radiation.
However, Ukraine's concerns were contested by the IAEA which stated that sustained power was not strictly required for effective cooling at the site. The IAEA confirmed that the loss of uninterrupted power at Chernobyl nevertheless represented a violation of its nuclear safety pillars.
The incident comes a day after the IAEA reported that remote monitoring telemetry had been lost. A similar loss of connectivity was recently tracked by NetBlocks at Zaporizhzhia Nuclear Power Plant and condemned by the IAEA.
⚠️ Update: The International Atomic Energy Agency says remote data transmission from monitoring systems at #Ukraine's mothballed #Chernobyl nuclear plant has been lost. The incident follows a loss of data from #Zaporizhzhia.

📰 https://t.co/h7QnPQm2RD
📰 https://t.co/xpBU4PQUpd https://t.co/ALOEzwTjaH

— NetBlocks (@netblocks) March 8, 2022
The disconnections have raised concerns over nuclear security, and come amid a series of outages and network disruptions as Russia targets telecommunications infrastructure and as power is lost in regions seeing the heaviest combat.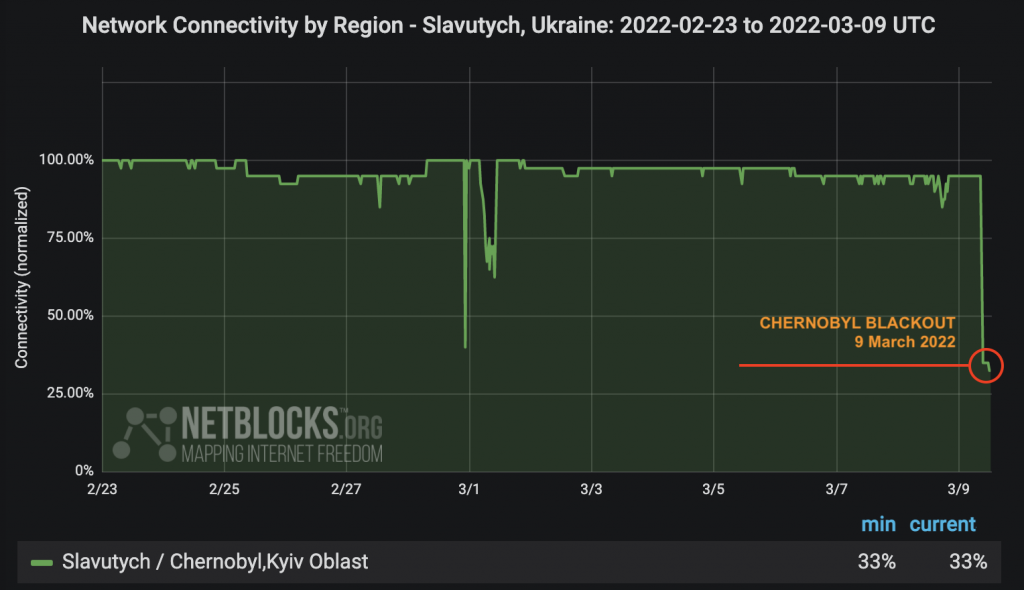 Work is ongoing to assess the incidents and their contexts. Telecoms disruptions in Ukraine have so far been attributed to power outages, cyberattacks, sabotage, and kinetic impacts.
What's happening in Ukraine?
Russian leader Vladimir Putin announced military mobilization on the morning of Thursday 24 February 2022, and artillery rounds were fired while troops moved into Kharkiv about 25 miles from the Russian border. As the security situation deteriorated over the subsequent days Ukrainian authorities advised civilians to get off the streets and seek shelter.
Previously:
---
Methodology
NetBlocks diffscans, which map the IP address space of a country in real time, show internet connectivity levels and corresponding outages. Purposeful internet outages may have a distinct network pattern used by NetBlocks to determine and attribute the root cause of an outage, a process known as attribution which follows detection and classification stages.
---
NetBlocks is an internet monitor working at the intersection of digital rights, cyber-security and internet governance. Independent and non-partisan, NetBlocks strives to deliver a fair and inclusive digital future for all.
[ press | contact ] Graphics and visualizations are provided for fair use in unaltered form reflecting the meaning and intent in which they were published, with clear credit and source attribution to NetBlocks. Intellectual property rights are protected including but not limited to key findings, facts and figures, trademarks, copyrights, and original reporting, are held by NetBlocks. Citation and source attribution are required at the point of use.