Network data from the NetBlocks internet observatory confirm cellular and fixed-line telecommunication networks have been impacted after a 6.5 magnitude earthquake which struck eastern Turkey Friday 24 January 2020.
Preliminary reports indicate dozens of casualties and destroyed buildings in Elazig and Malatya. Disruptions continue some three hours after the incident was first registered, as authorities urged citizens to avoid non-essential phone calls. Subscribers continue to report difficulty reaching loved ones.
Important: Telecommunication networks remain highly impacted two hours after 6.5 magnitude earthquake in #Elazığ #Turkey; the Disaster and Emergency Management Presidency urges citizens to avoid non-essential telephone calls 📵⚠️ #deprem pic.twitter.com/E79N7y4Zes

— NetBlocks (@netblocks) January 24, 2020
Network data show a fall in connectivity on autonomous networks operated by Vodafone, Turk Telecom and Turkcell Superonline in the cities of Elazig and Malatya as the earthquake struck, 8:55 p.m. local time (17:55 UTC).
While Elazig is most affected, outages are also recorded in and have been widely reported in the neighboring city of Malatya:
Update: 2.5 hours after the #Elazığ #Turkey earthquake, telecommunication networks also remain partially impacted in the neighboring city of #Malatya; incident ongoing 📵 #deprem pic.twitter.com/ShMKNLs9fa

— NetBlocks (@netblocks) January 24, 2020
Earthquakes and internet connectivity
Earthquakes and tremors can have impact on data transit as well as the edge of the network for a variety of reasons.
Data indicate damage to infrastructure from the tremor could have played a role in the outages affecting Elazig and Malatya, given that outages are observed on fixed-lines as well as cellular networks, although official incident reports have not yet been issued. In the aftermath of the earthquake, authorities urged citizens to avoid non-essential calls while some mobile operators offered free data packages to residents.
On the other hand, telecommunication outages during the recent earthquake in Puerto Rico were attributed to power grid failures that affected most of the island:
Confirmed: Internet disruption registered in #PuertoRico after 6.4 magnitude earthquake ~08:24 UTC; real-time network data show national connectivity at 60%. Mobile data allowing people to stay connected amid power cuts, reports @norcruz of @isocpr 📉⚠️

📰https://t.co/IfjXjLS7zE pic.twitter.com/dU26E23dGI

— NetBlocks (@netblocks) January 7, 2020
Telecommunication disruptions during earthquake are associated with fixed-line connectivity in these scenarios, however mobile connectivity is often impacted.
In September 2019, NetBlocks tracked another partial internet disruption in Turkey caused by a 5.7 magnitude earthquake which primarily affected mobile networks:
Confirmed: Significant outages affecting mobile and fixed networks in #Turkey from 11:00 a.m. UTC (2:00 p.m. local time) caused by magnitude 5.7 earthquake; internet and telecoms disruptions ongoing 📉 #Istanbul #Silivri #deprem pic.twitter.com/VmyCDMwE0Q

— NetBlocks (@netblocks) September 26, 2019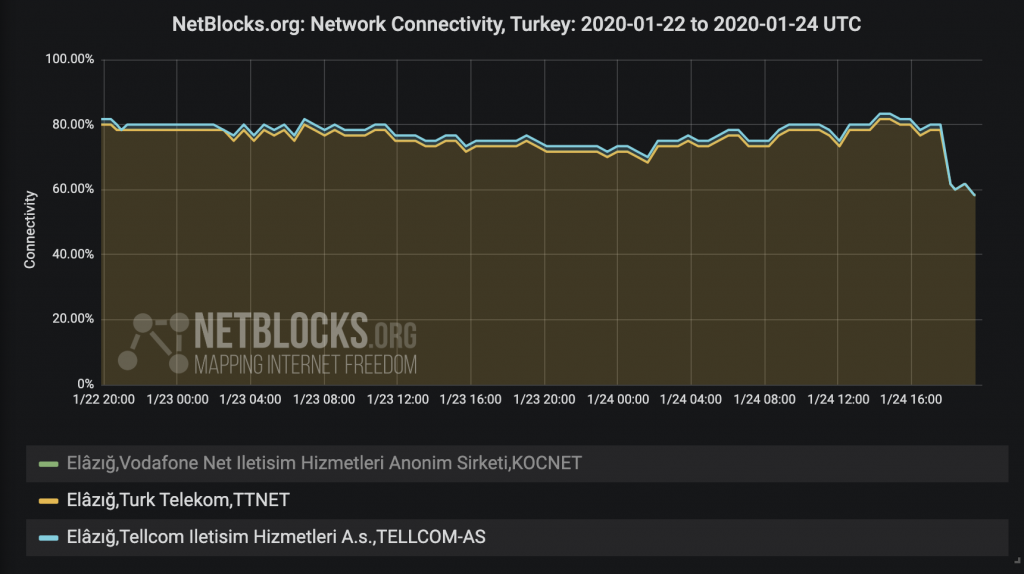 ---
Methodology
NetBlocks diffscans, which map the IP address space of a country in real time, show internet connectivity levels and corresponding outages. Purposeful internet outages may have a distinct network pattern used by NetBlocks to determine and attribute the root cause of an outage, a process known as attribution which follows detection and classification stages.
A summary of data visualizations used in this report:
Network Connectivity (Regional): Selected internet providers and networks serving the affected region are visualized in a stacked time-series chart to identify the start and end times of an internet outage event. Scales on the y-axis are adjusted to match localized maxima while minima are scaled to 0 indicate periods when networks became unreachable. The x-axis represents Universal Coordinated time (GMT+0). Connectivity levels on the y-axis correspond to the observed number of reachable connections.
---
NetBlocks is an internet monitor working at the intersection of digital rights, cyber-security and internet governance. Independent and non-partisan, NetBlocks strives to deliver a fair and inclusive digital future for all.
[ press | contact ] Graphics and visualizations are provided for fair use in unaltered form reflecting the meaning and intent in which they were published, with clear credit and source attribution to NetBlocks. Intellectual property rights are protected including but not limited to key findings, facts and figures, trademarks, copyrights, and original reporting, are held by NetBlocks. Citation and source attribution are required at the point of use.