Network data from the NetBlocks internet observatory confirm that internet has been cut across much of Somalia with high impact to Mogadishu from 10:30 a.m. local time (7:30 a.m. UTC) on Sunday 26 July 2020. Service was largely restored on Monday afternoon, with a recorded incident duration of 31 hours.
⚠️Confirmed: Internet shutdown across much of #Somalia as parliament votes to remove Prime Minister Hassan Ali Khaire over lack of democratic elections; real-time metrics show connectivity below ~30% of ordinary levels with high impact to #Mogadishu

📰 https://t.co/Dqtp0RXkSB pic.twitter.com/QiV145Ib7D

— NetBlocks (@netblocks) July 26, 2020
The internet outage began the morning after Somalia's parliament removed prime minister Hassan Ali Khaire from his post in a vote of no confidence on Saturday. 170 of 178 MPs backed the motion against Khaire, citing a failure to deliver electoral reforms and tighten security.
Real-time metrics showed national connectivity levels at just 30% of ordinary levels during the incident, with most impact observed in capital city Mogadishu. Journalists noted that the cuts impeded coverage of the political and public reaction to Saturday's events.
Update: Real-time network data confirm Internet has returned to parts of #Mogadishu / #Somalia impacted by this weekend's disruption; we evaluate a number of explanations and assess technical factors in our report; incident duration ~30 hours

📰 https://t.co/Dqtp0RXkSB pic.twitter.com/GTCz8m5I4I

— NetBlocks (@netblocks) July 27, 2020
As the blackout continued through Sunday, the European Union joined the United States Embassy issuing a statement condemning the forced resignation as a setback for Somalia's constitutional foundations.
@US2Somalia is concerned over irregularities in today's no-confidence vote. It is a setback for reforms #Somalia has pursued. Only path forward to timely, peaceful, implementable federal elections is consultation & constructive dialogue. (1/2) –> Read Full Statement

— U.S. Embassy Mogadishu, Somalia (@US2SOMALIA) July 25, 2020
Recent developments in #Somalia entail a serious disrespect for the constitutional foundations and represent a setback for the country and the confidence of the European Union in the progress of Somalia. #AUEU https://t.co/uw0tC7iNd5

— Josep Borrell Fontelles (@JosepBorrellF) July 26, 2020
The incident has nation-scale, non-total impact affecting various cellular and fixed-line networks. The disruption has not been conclusively attributed to any international technical outage or cyber-attack.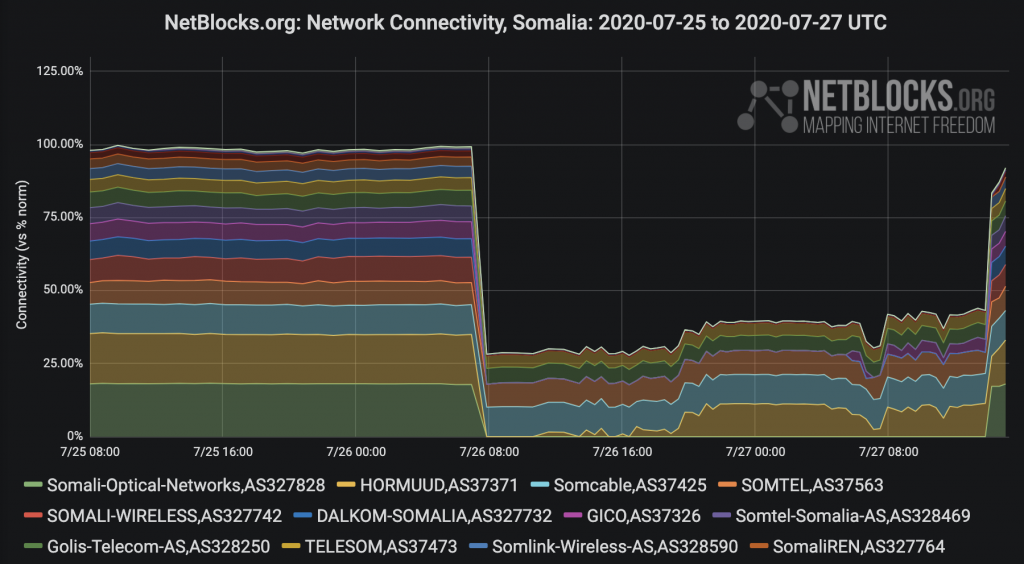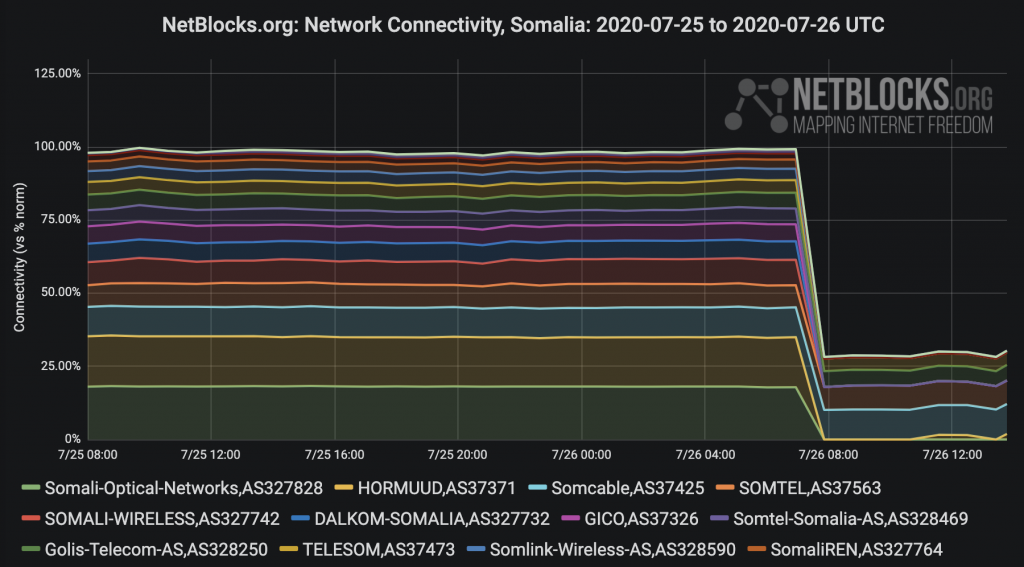 Analysis of sub-sea cable networks shows no significant impact to other countries, indicating that the disruption is of domestic origin. Several, but not all, of Somalia's leading business and residential service providers have been affected. The semi-autonomous Somaliland region and other parts of the country retained more connectivity and Somalia has at least six international exchange points and cable landing stations.
Somalia's internet cut follows a multi-week internet shutdown imposed by authorities in neighbouring Ethiopia.
Has Somalia's internet access been cut before?
A review of NetBlocks data show no recent instances of targeted nation-scale internet shutdowns in Somalia, although social media restrictions were announced during the 2019 school exam period. On 8 January 2014, militants issued a ban on internet access in held territories and authorities have in turn sought to take the militants offline. The country has also experienced outages due to international cable system faults, which simultaneously affected several countries along the east coast of Africa.
A submarine cable outage affecting a single country, while technically possible, has not been reported in recent years. The circumstances that would lead to such an event are rare because any physical damage would need to be sustained within a comparatively small geographic area of Somalia's territorial waters between the branching unit and landing station. In 2017, Somalia's internet was cut for weeks after lines were reportedly damaged by a container ship passing off the coast of Mogadishu. All other recorded submarine cable outages are of international origin.
Following the blackout this Sunday, a leading telecoms operator asserted that windy conditions caused Somalia's internet to cut out. The depth to which wind stress can ply ocean currents is calculated by eddy viscosity, placing the alleged fault well within Somalia's narrow coastal shelf and no more than 10 km off shore. However, coastal weather records for Mogadishu show calm conditions and lower-than-average wind speeds at the time on Sunday when connectivity was lost.  Hence, it has not been possible to corroborate the operator's statement.
We are aware of a letter circulating that claims windy conditions could be responsible for the #Somalia internet cut.

However, third-party weather data show good conditions when the disruption came into effect, and lower than average wind speeds throughout Sunday, 26 July 2020. pic.twitter.com/b37oDPe5wY

— NetBlocks (@netblocks) July 26, 2020
While investigations continue, the severity and extent of the disruption are noted, as is the impact on Somalis' ability to receive and impart information at a moment of political significance.
Analysis: There is no indication of an international subsea cable outage impacting #Somalia, and occurrences of cable cuts that affect a single country's internet connectivity for an extended period of time are exceptionally rare 📊

📰 https://t.co/Dqtp0RXkSB pic.twitter.com/9kFlQBDfCa

— NetBlocks (@netblocks) July 26, 2020
Further reading:
---
Methodology
NetBlocks diffscans, which map the IP address space of a country in real time, show internet connectivity levels and corresponding outages. Purposeful internet outages may have a distinct network pattern used by NetBlocks to determine and attribute the root cause of an outage, a process known as attribution which follows detection and classification stages.
A summary of data visualizations used in this report:
Network Connectivity (National): Internet providers and networks serving the affected region are visualized in a stacked time-series histogram to identify the start and end times of an internet shutdown event. Scales on the y-axis are adjusted to match localized maxima while minima indicate periods when networks became unreachable. The x-axis represents Universal Coordinated time (GMT+0).

Standard: Connectivity levels on the y-axis correspond directly to the observed number of reachable connections, as with National Connectivity charts.
---
NetBlocks is an internet monitor working at the intersection of digital rights, cyber-security and internet governance. Independent and non-partisan, NetBlocks strives to deliver a fair and inclusive digital future for all.
[ press | contact ] Graphics and visualizations are provided for fair use in unaltered form reflecting the meaning and intent in which they were published, with clear credit and source attribution to NetBlocks. Intellectual property rights are protected including but not limited to key findings, facts and figures, trademarks, copyrights, and original reporting, are held by NetBlocks. Citation and source attribution are required at the point of use.