Network data from NetBlocks and third-party traffic data confirm significant disruptions to internet service in Burkina Faso from the afternoon of Monday 10 January 2022. The incident comes as authorities are reported to have made arrests related to an alleged coup plot.
NetBlocks metrics also corroborate user reports of service issues on provider Orange (AS37577) in effect from Tuesday 11 January 2022 and ongoing as of 20 January 2022, indicating the restriction of Facebook and some WhatsApp servers:
⚠️ Confirmed: Internet disruptions have been observed in #BurkinaFaso amid reports of arrests relating to a coup plot; traffic data indicate service cut for ~15 hours from Monday afternoon, followed by WhatsApp and Facebook restrictions 📵

📰 Report: https://t.co/VpcTD8AML0 pic.twitter.com/WHWBFDde4w

— NetBlocks (@netblocks) January 11, 2022
Google Transparency metrics indicate that traffic was significantly disrupted at national scale for some 15 hours from Monday afternoon until around 6 a.m. on Tuesday morning: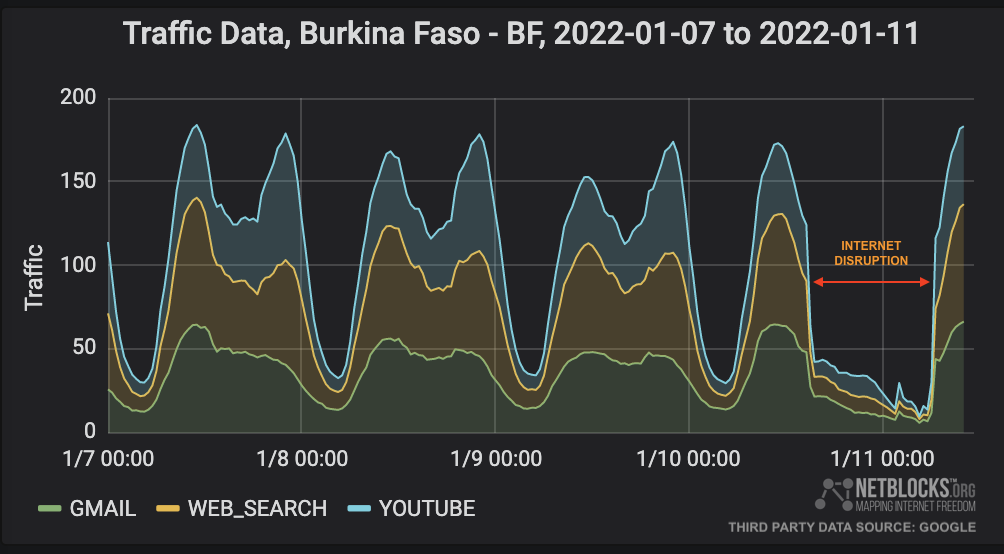 The social media and messaging app restrictions can be worked around with the use of circumvention software or VPNs.
What's happening in Burkina Faso?
Burkina Faso has faced growing security challenges in recent years, leading to discontent among the public and in the ranks of the military. For several months, authorities have feared that officers may attempt a coup.
A lieutenant colonel and others were arrested on January 10 in relation to an alleged coup plot. Protesters called for the president to take action or resign earlier in the week. The present internet disruptions are understood to be related to these events.
#BurkinaFaso military issues statement – 8 individuals from the army arrested for allegedly plotting to, "destabilise the institutions of the republic." A coup plot would seem to explain why the cell internet networks have been flickering on and off since yesterday. pic.twitter.com/WQBz0IdBCU

— Henry Wilkins (@Henry_Wilkins) January 11, 2022
Burkina Faso has previously shut down mobile internet access amid political unrest and the shooting of protesters by a French military convoy in November 2021, issuing two 96-hour long shutdown orders to providers.
What are the authorities saying?
Service providers and authorities did not initially make a public statement about the internet disruptions.
On 19 January 2022, authorities said they restricted access to Facebook services citing security concerns. Government spokesperson Alkassoum Maiga said the authorities did not have to explain themselves.
Further reading:
Background: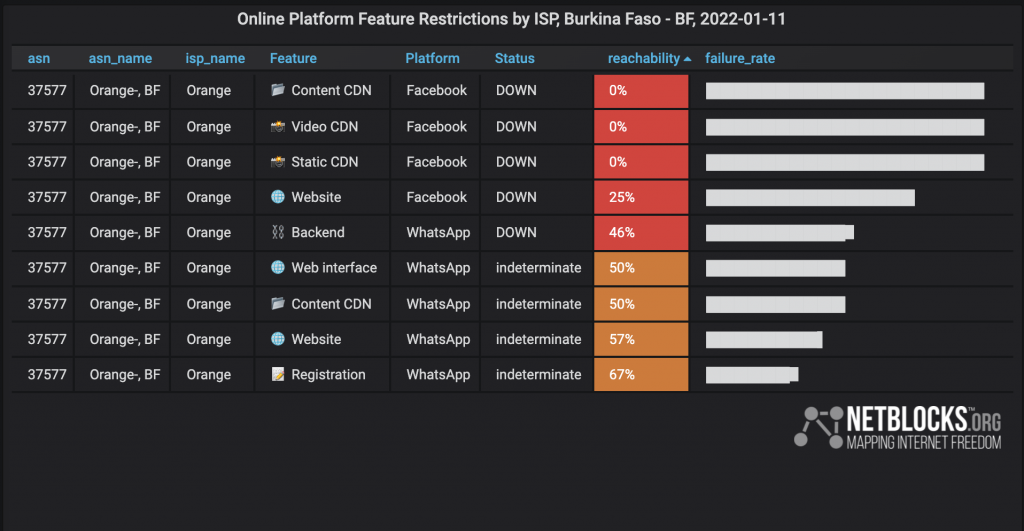 ---
Methodology
Internet performance and service reachability are determined via NetBlocks web probe privacy-preserving analytics. Each measurement consists of latency round trip time, outage type and autonomous system number aggregated in real-time to assess service availability and latency in a given country. Network providers and locations are enumerated as vantage point pairs. The root cause of a service outage may be additionally corroborated by means of traffic analysis and manual testing as detailed in the report.
This report uses third-party internet measurement data from the "Google Transparency" data source.
---
NetBlocks is an internet monitor working at the intersection of digital rights, cyber-security and internet governance. Independent and non-partisan, NetBlocks strives to deliver a fair and inclusive digital future for all.
[ press | contact ] Graphics and visualizations are provided for fair use in unaltered form reflecting the meaning and intent in which they were published, with clear credit and source attribution to NetBlocks. Intellectual property rights are protected including but not limited to key findings, facts and figures, trademarks, copyrights, and original reporting, are held by NetBlocks. Citation and source attribution are required at the point of use.