Network data confirm the restriction of social media and messaging platforms Facebook, WhatsApp, Instagram and Messenger in Suriname from Friday evening 17 February 2023 local time. The incident came amid protests over the rising cost of living as protesters stormed the National Assembly. Access was restored on Saturday morning.
⚠️ Confirmed: Live metrics show Facebook, Instagram, WhatsApp and Messenger have been restricted in #Suriname on government-owned internet operator Telesur amid protests over the cost of living and the storming of parliament in Paramaribo

📰 Report: https://t.co/XS6gwLwERT pic.twitter.com/hiJ1Au1svP

— NetBlocks (@netblocks) February 18, 2023
Real-time NetBlocks metrics show that Facebook, WhatsApp, Instagram and Messenger frontends and backends have been restricted from late Friday — all platforms operated by Meta — on government owned telecommunications network Telesur (AS27775). Findings are drawn from an initial sampling of 100 metrics from ten vantage points in the country. This class of disruption can be worked around using VPN services (we recommend Surfshark), which can circumvent government internet censorship measures.
What's happening in Suriname?
Clashes over austerity measures in Suriname have turned violent, as police respond with tear gas and rubber bullets. On Friday demonstrators stormed the National Assembly, Suriname's parliament, in the capital city Paramaribo. A weak currency and worsening economic crisis have driven citizens to the streets. The government released a statement condemning Friday's incident and said it had set up a task force to manage the situation.
The Republic of Suriname does not have a significant track record of internet censorship and the measure is considered exceptional for the South American nation. NetBlocks recommends against the use of social media restrictions due to their disproportionate impact on the public's right to freely access and impart knowledge.
See also: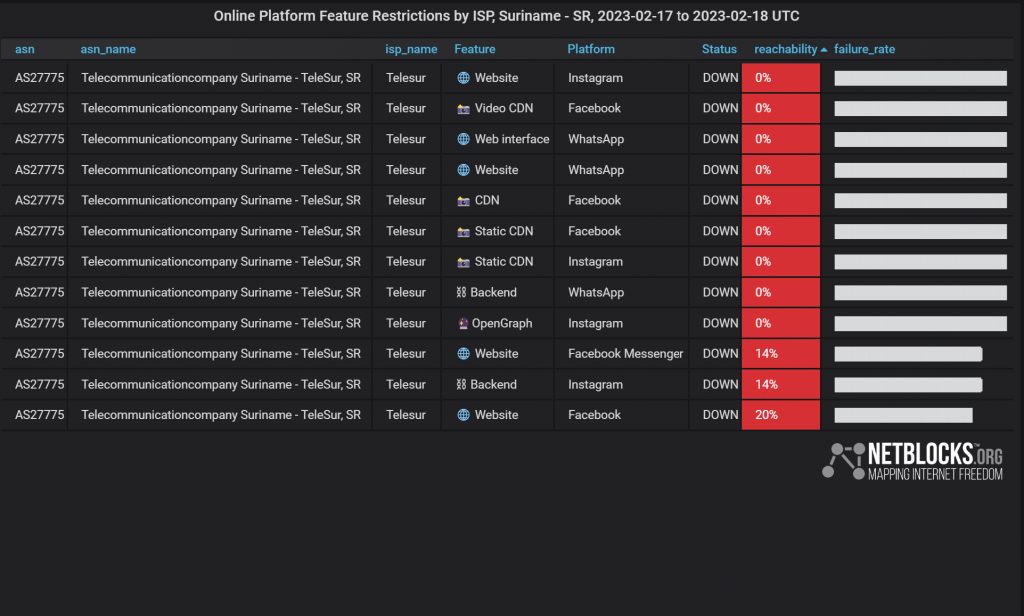 ---
Methodology
Internet performance and service reachability are determined via NetBlocks web probe privacy-preserving analytics. Each measurement consists of latency round trip time, outage type and autonomous system number aggregated in real-time to assess service availability and latency in a given country. Network providers and locations are enumerated as vantage point pairs. The root cause of a service outage may be additionally corroborated by means of traffic analysis and manual testing as detailed in the report.
---
NetBlocks is an internet monitor working at the intersection of digital rights, cyber-security and internet governance. Independent and non-partisan, NetBlocks strives to deliver a fair and inclusive digital future for all.
[ press | contact ] Graphics and visualizations are provided for fair use in unaltered form reflecting the meaning and intent in which they were published, with clear credit and source attribution to NetBlocks. Intellectual property rights are protected including but not limited to key findings, facts and figures, trademarks, copyrights, and original reporting, are held by NetBlocks. Citation and source attribution are required at the point of use.
Core Reporting Sponsor