Network data from the NetBlocks Internet Observatory confirm the disruption of social media and messaging apps in Senegal as of Friday 5 March 2021. Metrics show that Facebook, YouTube, WhatsApp, and some Telegram servers were restricted on leading cellular network operator Orange/Sonatel as of early morning Friday. Affected services have subsequently been restored from 7:30 a.m. UTC.
The online service restrictions come amid intensifying clashes between protesters and anti-riot police in Dakar after the second day of demonstrations following the arrest of opposition leader Ousmane Sonko.
Data show that CDN backend servers have been targeted, limiting the viewing and sharing of photo and video content. VPN services are effective at circumventing the restrictions.
The incident follows a decision the previous day from the National Audiovisual Regulatory Council (CNRA) to suspend two television stations over their coverage of the protests.
⚠️ Confirmed: Social media and messaging apps restricted in #Senegal amid political unrest following arrest of opposition leader; real-time metrics show Facebook, YouTube, WhatsApp and Telegram CDN servers disrupted, limiting photo and video sharing 📉

📰 https://t.co/klvokfpLyu pic.twitter.com/L6q3ygu9jP

— NetBlocks (@netblocks) March 5, 2021
Metrics are aggregated from an initial sampling of 60 observation points across Senegal. While restrictions have been largely lifted and affected services remain functional as of midday, the situation on the ground remains volatile and monitoring efforts continue.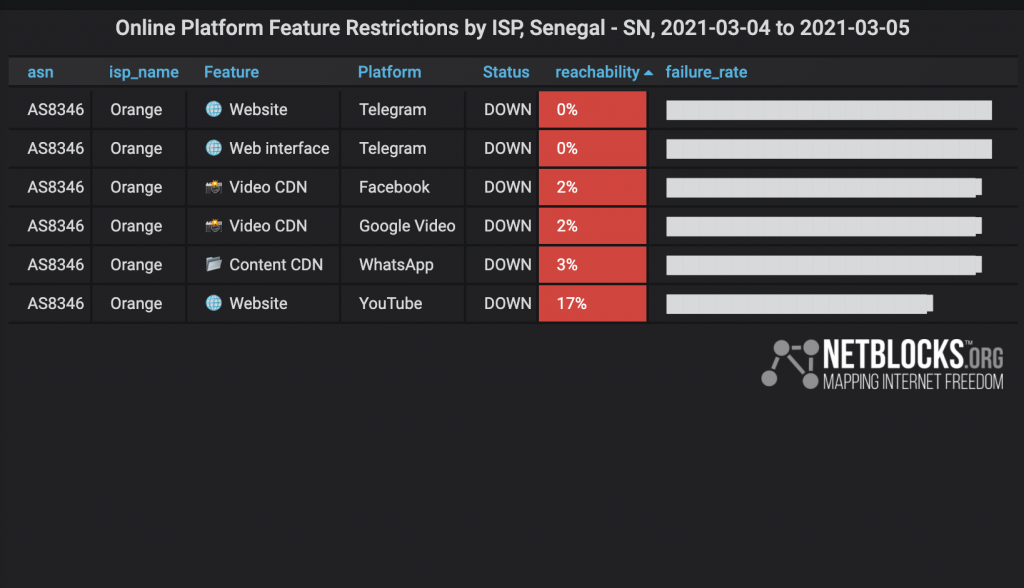 Further reading:
---
Methodology
Internet performance and service reachability are determined via NetBlocks web probe privacy-preserving analytics. Each measurement consists of latency round trip time, outage type and autonomous system number aggregated in real-time to assess service availability and latency in a given country. Network providers and locations are enumerated as vantage point pairs. The root cause of a service outage may be additionally corroborated by means of traffic analysis and manual testing as detailed in the report.
---
NetBlocks is an internet monitor working at the intersection of digital rights, cyber-security and internet governance. Independent and non-partisan, NetBlocks strives to deliver a fair and inclusive digital future for all.
[ press | contact ] Graphics and visualizations are provided for fair use in unaltered form reflecting the meaning and intent in which they were published, with clear credit and source attribution to NetBlocks. Intellectual property rights are protected including but not limited to key findings, facts and figures, trademarks, copyrights, and original reporting, are held by NetBlocks. Citation and source attribution are required at the point of use.