Network data from NetBlocks confirm a nation-scale collapse of internet connectivity in Yemen on Friday 21 January 2022 from around 1 a.m. local time. The incident came amid reports of an airstrike on a telecom hub in the port city of Al Hudaydah and continued until early Tuesday morning, with a recorded incident duration of four days.
⚠️ Confirmed: #Yemen is in the midst of a nation-scale Internet blackout following airstrike on telecom building in #Hudaydah; real-time network data show collapse of connectivity on leading provider; incident ongoing 📉 pic.twitter.com/ZM77WdUpwm

— NetBlocks (@netblocks) January 21, 2022
ℹ️ Confirmed: Internet is being restored in #Yemen after a four-day long nation-scale blackout 📈

Connectivity collapsed after a series of deadly airstrikes. The incident severely limited independent media and human rights monitoring efforts.

📰 Report: https://t.co/571sVb9PdP pic.twitter.com/C5Z2idqlGu

— NetBlocks (@netblocks) January 24, 2022
Real-time metrics show the loss of connectivity on leading network YemenNet (AS30873) on early Friday morning. It is not known if telecommunication infrastructure was specifically targeted, although visual investigations suggest this may be the case. The resulting information blackout is likely to limit coverage of events on the ground.
Visual reports appeared to corroborate initial reports of a strike. Al Hudaydah is the main landing point for internet connectivity in Yemen, hosting the undersea FALCON and SEA-ME-WE 5 cables that route via the Red Sea.
⚠️ Update: It's now Monday in #Yemen where a near-total Internet blackout has entered its fourth day ⏱

The country fell largely offline after a series of deadly airstrikes, leaving friends and family out of touch 📉

📰 Report: https://t.co/571sVb9PdP pic.twitter.com/4LF3LpWzzQ

— NetBlocks (@netblocks) January 23, 2022
⚠️ Update: It's now Sunday in #Yemen where Internet has been largely down for more than 48 hours after a series of deadly airstrikes knocked out connectivity.

The blackout continues to hinder human rights monitoring and independent media 📉

📰 Report: https://t.co/571sVb9PdP pic.twitter.com/1YckXRTi6t

— NetBlocks (@netblocks) January 22, 2022
Work is ongoing to investigate the circumstances surrounding the network disruption.
Further reading: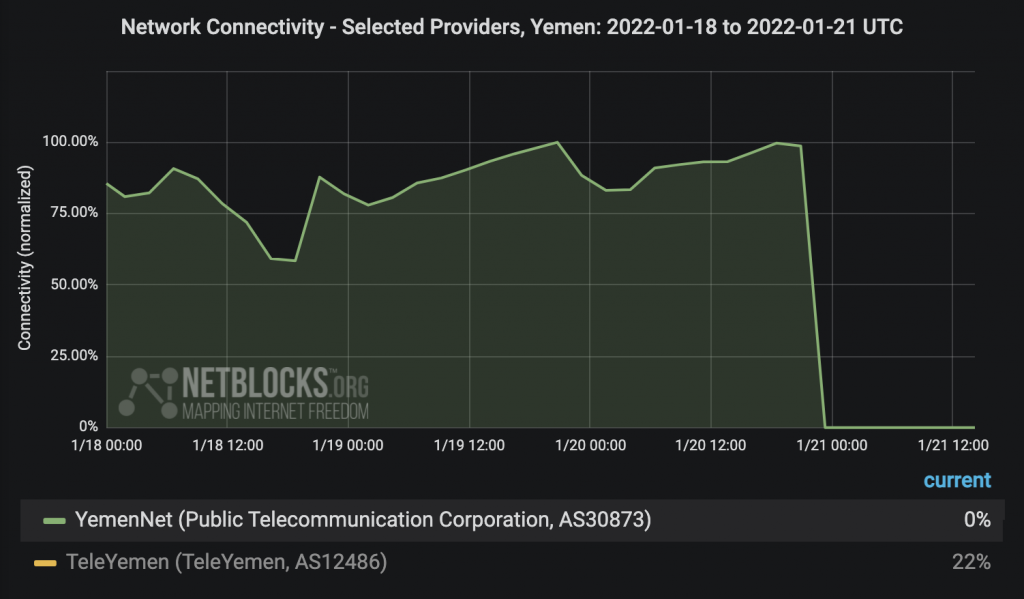 ---
Methodology
NetBlocks diffscans, which map the IP address space of a country in real time, show internet connectivity levels and corresponding outages. Purposeful internet outages may have a distinct network pattern used by NetBlocks to determine and attribute the root cause of an outage, a process known as attribution which follows detection and classification stages.
---
NetBlocks is an internet monitor working at the intersection of digital rights, cyber-security and internet governance. Independent and non-partisan, NetBlocks strives to deliver a fair and inclusive digital future for all.
[ press | contact ] Graphics and visualizations are provided for fair use in unaltered form reflecting the meaning and intent in which they were published, with clear credit and source attribution to NetBlocks. Intellectual property rights are protected including but not limited to key findings, facts and figures, trademarks, copyrights, and original reporting, are held by NetBlocks. Citation and source attribution are required at the point of use.